Chief Quality Officer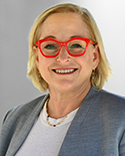 Holly Beeman, MD, MBA joined El Camino Health in November 2021 as the inaugural chief quality officer (CQO) for the enterprise. She is responsible for ensuring that El Camino Health provides the highest quality and safest care for our patients. In her role as CQO, she oversees quality and patient safety, health equity, population health, process improvement, infection prevention, clinical documentation integrity as well as accreditation and public reporting. Dr. Beeman is a passionate sponsor of El Camino Health's transformation to becoming a high reliability organization with the mission to eliminate harm events which could impact patients and staff.
Dr. Beeman has been a part of the El Camino Health community since 2008 when she moved to California with her family. As a board certified obstetrician and gynecologist with the Palo Alto Foundation Medical Group, she chose El Camino as the hospital where her patients received their gynecological surgical care, and, where her patients gave birth.
Dr. Beeman's passion for patient-centered care informed her decision to transition into health care leadership and administration so she could have a broader and more far-reaching impact on the health and well-being of members of our community. Prior to joining El Camino Health as the Chief Quality Officer, she served as the Chief Surgical Officer at Sutter Health where she led a group of 1600 physicians to achieve awards in quality, innovation and patient experience.
From her entrée into health care as a patient experience liaison in Karachi Pakistan in the 1980s, to her volunteer work as a rape-crisis counselor in Oklahoma, Dr. Beeman leads with humility, ally-ship and a commitment to eliminating barriers to health outcomes which are systemic, avoidable and unjust. Every human should have the opportunity to achieve their full health potential.
Dr. Beeman earned her medical degree at the University of Vermont in Burlington, VT, and completed her residency in obstetrics and gynecology at the University of Michigan Center in Ann Arbor, MI. She is board certified in obstetrics and gynecology and a fellow with the American College of Obstetrics and Gynecology. Dr. Beeman also earned a master's in business administration from the University of Massachusetts, Amherst in Amherst, MA. She is certified in organizational diversity and inclusion from Stanford Graduate School of Business.