Chief Quality Officer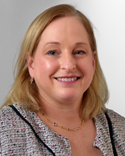 Holly Beeman, MD, MBA joined El Camino Health in November 2021 as the first chief quality officer (CQO) for the enterprise. She is responsible for ensuring that El Camino Health provides the highest quality and safest care for our patients. In her role as CQO, she oversees quality and patient safety, infection prevention, accreditation and public reporting, clinical documentation and medical staff services.
Before joining El Camino Health, Dr. Beeman was the chief surgical officer for the Palo Alto Foundation Medical Group (PAFMG) where she designed and implemented the strategic vision for the 1,700 physician multispecialty medical group, which focused on providing the highest quality care to one million patients across Northern California. Her efforts helped the medical group earn a top ten percent ranking in clinical quality and patient experience from the Integrated Health Association. During the initial phases of the COVID-19 pandemic, Dr. Beeman was also instrumental in expediting and directing PAFMG's incident command.
While at PAFMG, Dr. Beeman served as Sutter Health's executive medical director, for the Palo Alto Medication Foundation division of ambulatory surgery. During her tenure, Newsweek recognized four of the ambulatory surgery centers as the best in the United States.
Dr. Beeman earned her medical degree at the University of Vermont in Burlington, VT, and completed her residency in obstetrics and gynecology at the University of Michigan Center in Ann Arbor, MI. She is board certified in obstetrics and gynecology and a fellow with the American College of Obstetrics and Gynecology. Dr. Beeman also earned a master's in business administration from the University of Massachusetts, Amherst in Amherst, MA. She is certified in organizational diversity and inclusion from Stanford Graduate School of Business.