Chief Operating Officer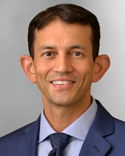 Meenesh Bhimani, MD joined El Camino Health in August 2022 as the chief operating officer (COO). He has 20-years of experience as a hospital executive and emergency room physician. As COO, he provides leadership and oversight of hospital operational and functional areas including all clinical inpatient areas, nursing, facilities, patient experience, pharmacy, and all support and ancillary services. Dr. Bhimani leads initiatives across the enterprise to achieve clinical and operational excellence.
Before joining El Camino Health, Dr. Bhimani held various roles at O'Connor Hospital in San Jose, CA, most recently hospital executive, and previously served as president of Emergency Physicians Associates. Dr. Bhimani was also a physician at Kaiser Permanente Greater Southern Alameda County, Washington Hospital Healthcare System, and St. Louise Regional Hospital.
Dr. Bhimani is board certified in emergency medicine. He earned his MD and completed his residency at Johns Hopkins School of Medicine, and also earned a masters in health administration from Cornell University.