Mountain View Campus Construction Project
We are pleased to announce the continued development of the El Camino Hospital Mountain View campus. This development will include:
The expansion of the North Garage parking structure
The replacement and expansion of the Behavioral Services Building
The construction of an Integrated Medical Office Building
The expansion of the Women's Hospital
These projects will allow El Camino Hospital to continue meeting the healthcare needs of our community. Additional project information is available.
These projects will, however, have a temporary impact on parking and transportation near the campus, starting July 2016. The initial phase of the project will require the closure of certain parking areas in order to begin construction activities.
Parking space closures beginning July 11th, 2016
Lot E – Physicians' parking area and Patient & Visitor spaces behind the Old Main Hospital
Lot L – Surface parking spaces behind the North Drive Parking Garage
Limited Street Parking – South Drive
Parking Options for Physicians
1. Controlled access parking
Controlled access parking in Lot E along Hospital Drive near the Women's Hospital has been relocated to Parking Lot B along South Drive near the Emergency Department and entrance to the Old Main Hospital. See Figure 1.
OBs may use the controlled parking area in the Women's Hospital parking garage.
2. Physician Parking Placard
To allow physicians to park anywhere on the campus (with the exception of handicap parking spaces), physicians may display a physician parking placard in their vehicle. To obtain your free parking placard please bring your El Camino Hospital ID badge to the Security Office.

If you are on campus all day, please refrain from using patient & visitor parking.
3. Increased valet service
Physicians may use any of the free valet services. Valet stations are located at:
The front of the New Main Hospital
The Old Main Hospital entrance near the emergency department (off South Drive)
The entrance to the North Drive Parking Garage
Additional areas as needed
El Camino Hospital has also implemented a Staff Transportation Program. This program includes:
Free shuttle service between the Mountain View Transit Station and the hospital, and between off-site parking locations in Mountain View, Sunnyvale, and Los Gatos
A campus-wide carpooling program with preferred parking spaces for carpoolers on the 2nd floor of the North Garage
This disruption is temporary. Upon completion, there will be approximately 611 additional parking spaces on the Mountain View campus. We appreciate your understanding in this matter and if you have any questions or concerns, please contact Matthew Scannell.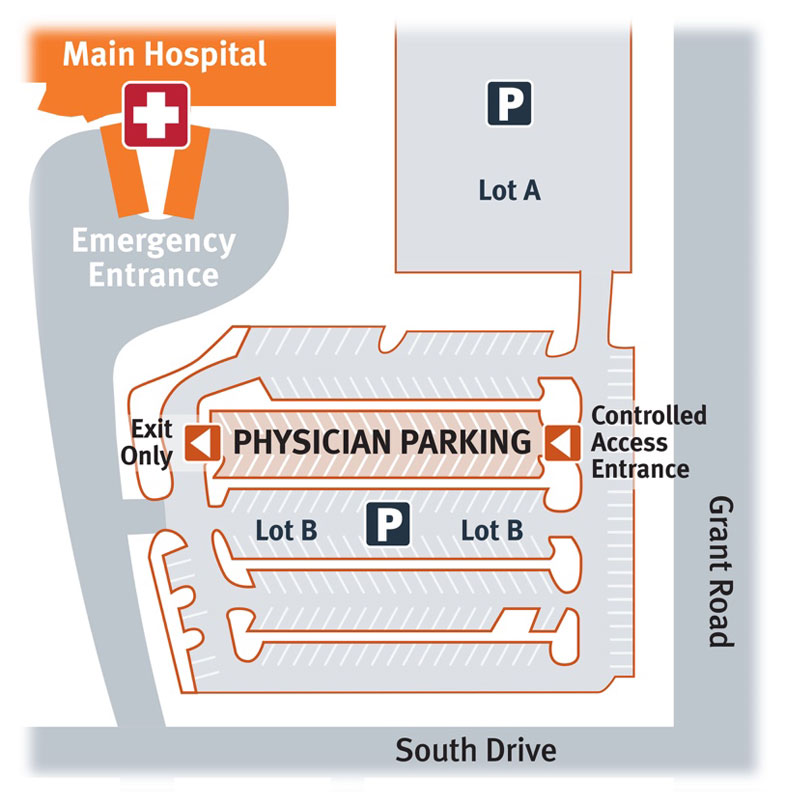 Figure 1. Physicians may use a controlled access parking area within Parking Lot B at South Drive and Grant Road.