Naming a Bench, Honoring a Legacy
Auxilian Ruth Kaiser devoted more than 20 years of her life to El Camino Hospital, volunteering in the old snack bar, with seniors, and in many departments including education, employee health, human resources and CONCERN.
She was a treasured volunteer at El Camino Hospital Foundation, where she helped to prepare complicated, multi-part mailings for numerous events.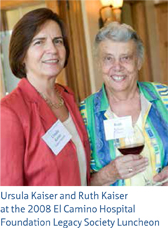 "Mom's years of volunteer work at El Camino Hospital provided community, purpose and joy. Everywhere she went she greeted patients and their families, and tried to bring some small happiness to their days," recalls daughter Ursula Kaiser, a Legacy Society member.
After Ruth died, her family made a generous gift to the hospital that meant so much to her, naming the Foundation's volunteer workroom in her memory. This past year, wanting to honor her mother in a more visible way, Ursula asked about the possibility of sponsoring memorial benches on the hospital's grounds.
"Whenever I pass a bench with a memorial plaque, I often reflect on the person's life and story. I thought it would be lovely if old friends and total strangers saw mom's name on a bench and paused for a brief moment to think about her."
It was a new idea to El Camino Hospital but one that was gladly embraced. Ursula donated two benches, one in the Meditation Garden, a beautiful, outdoor, contemplative space, and one at the entry to the hospital that would greet visitors, "just like mom used to do," she says.
Ursula hopes she has pioneered a new trend. If you would like to honor someone special on the El Camino Hospital campus or wish to learn about other gift opportunities at El Camino Hospital Foundation, please contact Lindsay Greensweig Ehrman, senior philanthropy officer, at 650- 988-7849 or lindsay_ehrman@elcaminohealth.org.