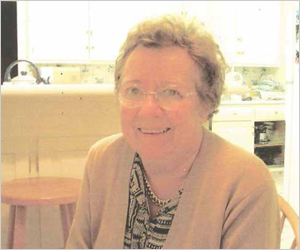 Marcelline Chartz Smith grew up in Carson City, Nevada. She attended Lone Mountain College for Women, now the University of San Francisco, where she studied math, and then graduate school at Stanford University. During her 44-year career as a NASA systems engineer she rose to become division chief at Ames Research Center in Mountain View, where she was the highest ranking woman in a field dominated by men. In 1984 and again in 1990, Marcelline received Exceptional Service Medals for her leadership in establishing Ames Research Center as the agency's central computer facility and the leading center of large computers.
"Marcelline and her husband William, a computer executive at the Fireman's Fund, were both geeks before the word was created," nephew Peter Chartz fondly recalls. The couple did not have children of their own, but Marcelline lavished love and attention on all her nieces and nephews. Inspired by a developmentally disabled brother, she also always cared about people less fortunate, particularly adults with disabilities.
At the end of her life, the Los Altos Hills widow turned to El Camino Hospital for her care. She remembered El Camino Hospital Foundation in her will, with a major unrestricted gift that will be used to meet the greatest need.
"Marcelline was generous with her kindness and philanthropy. She was an accomplished career person and a second mom to all her nieces and nephews. It was in keeping with her character that she was so generous with her estate," says Peter.