Hope to Health, El Camino Hospital Foundation's women's giving circle, celebrated its 10th anniversary with a private, docent-led tour of the new Anderson Museum at Stanford on June 11.
The members thanked outgoing Mountain View chapter president Sherron Kalbach and Los Gatos chapter president Lauren Boyle, and welcomed incoming Mountain View president Margaret Capriles. The two chapters, which will merge next year, heard from representatives of the programs they voted to support in 2015 and presented checks totaling $55,000 to them.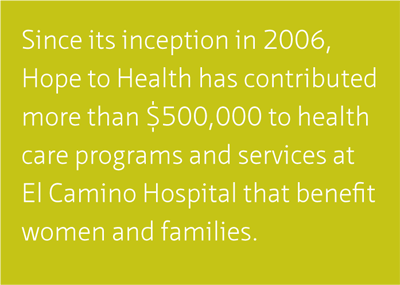 This year's grants will contribute to the expansion of ASPIRE, El Camino Hospital's adolescent outpatient mental health program; underwrite the cost of consultations and patient referrals to OATS, the hospital's geriatric outpatient mental health program; fund advanced training and certification in women's health topics for the physical therapists that staff the pelvic health program; underwrite free monthly classes on pelvic health and body mechanics for recovering postpartum mothers; fund a new support group for women who have experienced a cardiac incident or are at high risk and advance the hospital's outreach efforts on women's heart health through membership in WomenHeart: The National Coalition for Women with Heart Disease and The National Hospital Alliance.
Since its inception in 2006, Hope to Health has contributed more than $500,000 through the pooled donations of its members to health care programs and services at El Camino Hospital that benefit women and families. "We are a bunch of amazing women," Margaret Capriles told the members and their guests.
Please contact Kirsten Krimsley, manager of special events, at 650-988-4189 if you would like to learn about joining the women's philanthropy group.