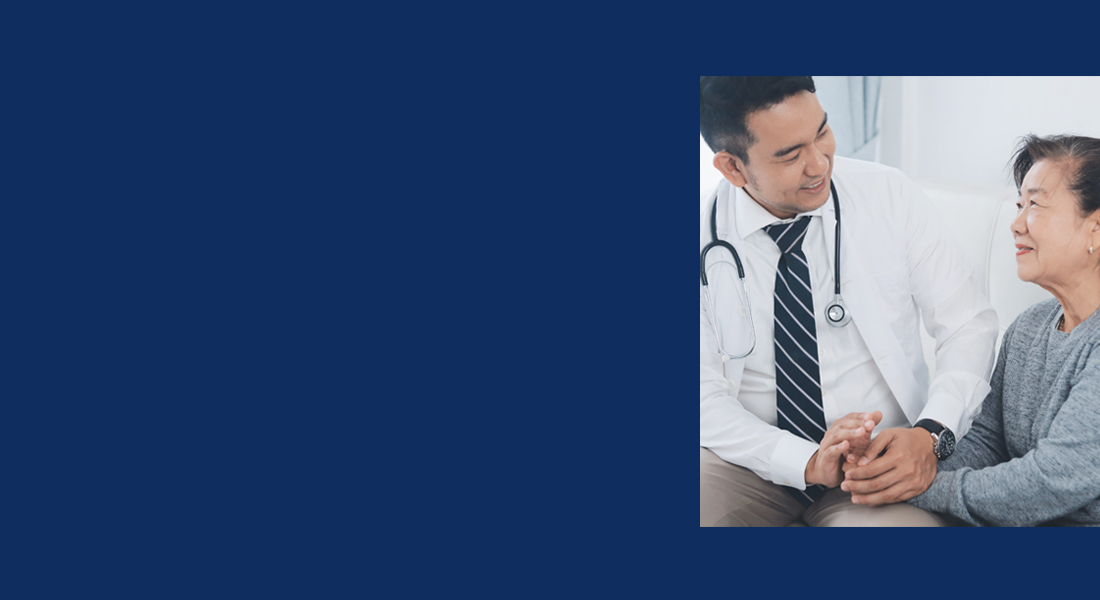 You deserve a great relationship with your doctor.
October 15, 2021 - December 7, 2021
Find a doctor that's right for you. Open Enrollment is the perfect time to review your Medicare choices and select a plan with El Camino Health doctors who will help you stay healthy.
IT'S OPEN ENROLLMENT - GET STARTED NOW
STEP 1
Check to see if we accept your health insurance.

Medicare Plans

AARP MedicareComplete Offered by UnitedHealthcare

Alignment Health Plan

Anthem Blue Cross (Includes Cal Medi-Connect (Dual Eligibles))
Blue Shield of California
Blue Shield of California Promise Medicare Health Plan (Lithotripsy only)

CareMore Health Plan
Central Health Medicare Plan
Health Net Seniority Plus
Humana Medicare Advantage
Santa Clara Family Health Plan (Includes Cal Medi-Connect (Dual Eligibles))
SCAN Health Plan
Secure Horizons - Offered by UnitedHealthcare

Stanford Health Care Advantage

UnitedHealthcare Medicare Solutions
STEP 2
Choose your location and find a doctor that's right for you.
We have more than 22 primary care physicians in 8 clinic locations conveniently located near you. Plus virtual visits, so you can connect from home.
STEP 3
Finish your Open Enrollment.
Now you have the information you need to complete your enrollment before the open enrollment deadline.
STEP 4
Sign up for more information about health topics that matter to you.
*By clicking "Sign Up," I agree to the El Camino Health Terms of Use and Privacy Policies. I also agree to receive emails from El Camino Health, and I understand that I may opt out of El Camino Health emails at any time.
What can you expect from El Camino Health?
ONLINE SCHEDULING

No more calling and waiting on hold. Our online scheduling system makes sure your next appointment is just a few clicks away. But you can always call if you prefer.
VIRTUAL VISITS

Why leave the house when you feel lousy? Or the office when you're busy? Our telehealth appointments bring your doctor or specialist right to you over any device.
DOCTORS THAT SPEAK YOUR LANGUAGE

You feel the most comfortable with a doctor that speaks your language. And El Camino Health doctors speak 16 different languages from English to Spanish, Mandarin to Russian.
WORLD-CLASS SPECIALISTS

At El Camino Health, our primary care physicians will refer you to outstanding specialists and also provide access to our two hospitals, accredited Cancer Center, Norma Melchor Heart & Vascular Institute, comprehensive maternity care, orthopedics, men's and women's health, mental health and addiction services, lifestyle medicine and much more.
El Camino Health
(First Street)
4150 N. First Street
San Jose, CA 95134
Providers
| | |
| --- | --- |
| El Camino Health Medical Network | El Camino Health Medical Network |
El Camino Health
(Gilroy)
9360 No Name Uno
Gilroy, CA 95020
Providers
| | |
| --- | --- |
| El Camino Health Medical Network | El Camino Health Medical Network |
El Camino Health
(McKee)
227 North Jackson Avenue
San Jose, CA 95116
Providers
El Camino Health Medical Network

Not accepting new patients

El Camino Health Medical Network

El Camino Health Medical Network

El Camino Health Medical Network

El Camino Health Medical Network

 
El Camino Health
(Morgan Hill)
16130 Juan Hernandez Drive, Suite 100
Morgan Hill, CA 95037
Providers
| | |
| --- | --- |
| El Camino Health Medical Network | El Camino Health Medical Network |
| El Camino Health Medical Network | El Camino Health Medical Network |
| El Camino Health Medical Network |   |
El Camino Health
(Samaritan)
2585 Samaritan Drive
San Jose, CA 95124
Providers
El Camino Health Medical Network

El Camino Health Medical Network

Not accepting new patients

El Camino Health Medical Network

Not accepting new patients

El Camino Health Medical Network

El Camino Health Medical Network

El Camino Health Medical Network

El Camino Health Medical Network

 
El Camino Health
(Willow Glen)
625 Lincoln Avenue
San Jose, CA 95126
Providers
| | |
| --- | --- |
| El Camino Health Medical Network | El Camino Health Medical Network |
| El Camino Health Medical Network |   |
El Camino Health Primary Care
(Mountain View)
2495 Hospital Drive, Suite 460
Mountain View, CA 94040
Providers
El Camino Health Medical Network

El Camino Health
Primary Care (Winchester)
828 South Winchester Boulevard
San Jose, CA 95128
Providers
| | |
| --- | --- |
| El Camino Health Medical Network | El Camino Health Medical Network |
| El Camino Health Medical Network |   |
---
Our other primary care clinics:

El Camino Health includes two not-for-profit acute care hospitals in Los Gatos and Mountain View and urgent care, multi-specialty care and primary care locations across Santa Clara County.

Learn more at elcaminohealth.org