Nursing Annual Report 2022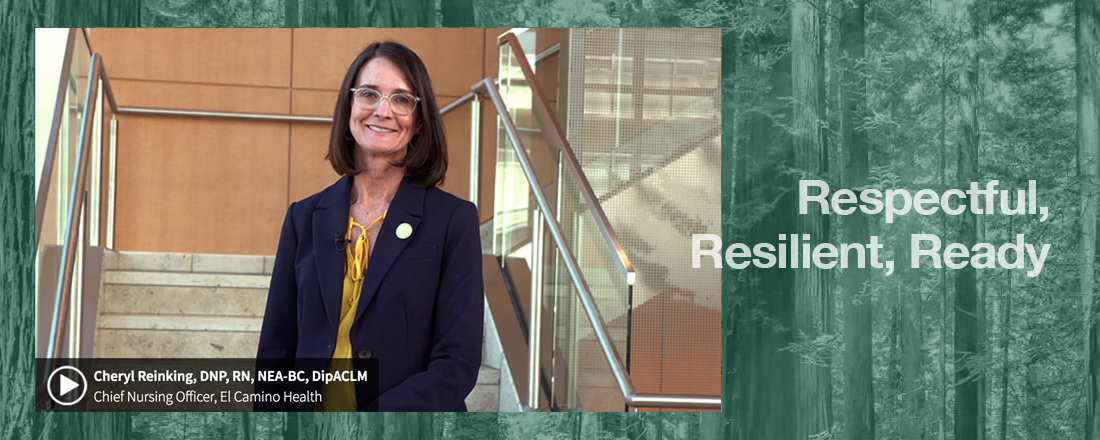 Patient Testimonial

"On the afternoon of Christmas Eve, I had an intense and unusual pain in my back and told my husband to take me to the emergency room. When we were a few blocks from the Los Gatos Emergency Department (ED), I went into cardiac arrest. When we pulled into the ED parking lot, my husband banged on doors for help. Harumi came running and began chest compressions in the car.

While there are many people who are responsible for me being alive, I absolutely credit Harumi for keeping me alive."

— Colleen Zoodsma

Thankful Patient Meets Her DAISY Nurse
Left to right: Harumi Key, RN Colleen Zoodsma
Central Partnership Council
The Central Partnership Council provides a forum for direct care staff members to collaborate with our leaders. Together, they serve as a decision making body that identifies and develops structures and processes to improve clinical practice. The leaders of this year's Central Partnership Council are Vanessa Tomasso, RN and Anne Stanford, RN.
Vanessa Tomasso, RN
Central Partnership Council Chair

Anne Stanford, RN
Central Partnership Council Co-Chair
Organizational Overview
| | |
| --- | --- |
| Mountain View Hospital | Los Gatos Hospital |
El Camino Health provides a personalized healthcare experience at two not-for-profit hospitals in Los Gatos and Mountain View as well as primary care, multi-specialty care, and urgent care locations across Santa Clara County. For more than sixty years, the organization has grown to meet the needs of individuals and communities it serves. Bringing together the best in new technology and advanced medicine, our network of nationally recognized physicians and care teams deliver high quality, compassionate care. Key service lines include behavioral health, cancer, heart and vascular, mother-baby, neurology, orthopedics, spine, urology and women's health.
The hospitals have earned numerous awards for clinical excellence, including being named as a top 100 hospital in the nation by Fortune/IBM Watson Health and Newsweek, Best Maternity Care Hospital for Los Gatos hospital by Newsweek, and earning a 5-Star Overall Hospital Quality Rating from Centers for Medicare & Medicaid Services (CMS). El Camino Health has earned four consecutive American Nurses Credentialing Center Magnet Recognitions for nursing excellence and quality patient care.