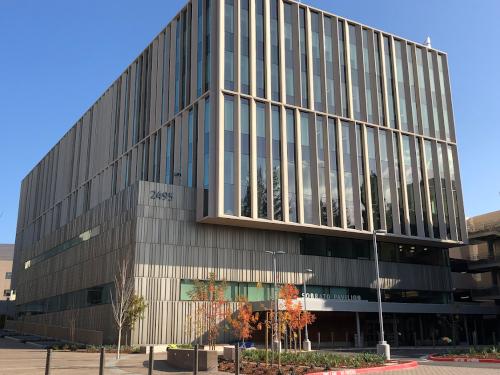 El Camino Health Specialty Care – Ear, Nose & Throat – Head & Neck Surgery
Mountain View Campus (El Camino Hospital)
Skip to main content
Patient & Visitor Information
Visiting Hours
Monday - Friday:
8:00 am - 5:00 pm
Saturday - Sunday:
Closed
Resources
Our clinics continue to be open for business. Learn more.
All of our doctors are available for visits over the phone (televisits) and most are available for virtual visits (video appointments over a mobile device or computer)
If you have scheduled an appointment with us, you can contact the office to request a televisit or a virtual visit, or you may be contacted by the office to change your visit to either one of these options
Important Notice
To ensure the safety of our patients & staff, and upon arrival to our clinics for your visit, you and anyone who accompanies you will be asked screening questions and have your temperature checked. Learn more.
Parking
On-site parking available.
A parking structure is located on Hospital Drive.
Our Doctors
Our ENT doctors treat ear, nose and throat disorders in people of all ages. We develop a customized treatment plan to give you the best possible results. Learn more about the ear, nose and throat specialists at El Camino Health Specialty Care.
El Camino Health Medical Network

El Camino Health Medical Network
Our Services
You can receive personalized attention for a variety of conditions, including:
Sinus infections.
Allergies
Nasal obstruction.
Head and neck cancers.
Hearing loss and other conditions that affect hearing and balance.
Sleep disorders, including obstructive sleep apnea and snoring.
Thyroid and parathyroid disorders, including thyroid cancer.
Voice and swallowing disorders, including reflux, hoarseness, and more.
Treatments and procedures offered include:
Endoscopic sinus surgery.
Balloon sinuplasty
Thyroid and parathyroid surgery.
Tonsil and adenoid surgery.
Ear tubes.
Microscopic voice surgery.
Minimally invasive surgery.
Allergy testing and therapy.
About
El Camino Health Specialty Care – Ear, Nose & Throat – Head & Neck Surgery
Our ENT doctors offer expert care for many conditions, including sinus infections, hearing disorders, thyroid disorders and throat cancer. Surgeons perform delicate head and neck surgeries, including minimally invasive procedures.