When you come to El Camino Health for heart care, you can depend on quality and expertise — care that exceeds national averages.
Hospitals use patient outcome reports to measure the safety and quality of care they provide. When you're choosing a hospital, patient outcomes information can help you make an informed decision. These reports also help hospitals compare their outcomes with other facilities and continuously improve the way they deliver care.
At the Norma Melchor Heart & Vascular Institute at El Camino Health, we're nationally recognized for our expertise in cardiac surgery by The Society of Thoracic Surgeons. We're committed to exceptional heart care — and it shows in our patient outcomes. We exceed national hospital averages for percutaneous coronary intervention (PCI), emergency heart attack treatment, transcatheter valve therapies, coronary artery bypass grafting (CABG), aortic valve replacement and mitral valve repair surgeries.
Emergency Care for Heart Attacks
Our renowned team of interventional cardiologists has long been on the forefront of percutaneous procedures for treating unstable angina, coronary artery disease and acute myocardial infarction (AMI), commonly known as a heart attack. Our  team is experienced at recognizing and treating the most urgent type of heart — an ST segment elevated myocardial infarction (STEMI). A STEMI is a complete blockage of a blood vessel to the heart.
Experts are ready at a moment's notice to begin a highly coordinated process that includes emergency clinicians, patient transport services, catheterization lab professionals and interventional cardiologists to assure that patients get immediate care.
This continuously refined, seamless system allows us to provide care to STEMI patients within 90 minutes of their arrival (the quality standard). In fact, we consistently provide care within 60 minutes. As a result of our skills and high standards, we've achieved 100 percent compliance with all 11 essential measurements for emergency heart attack care.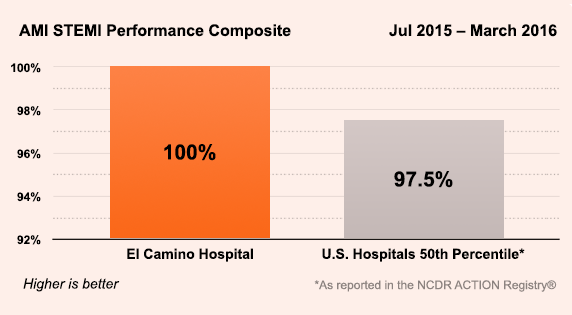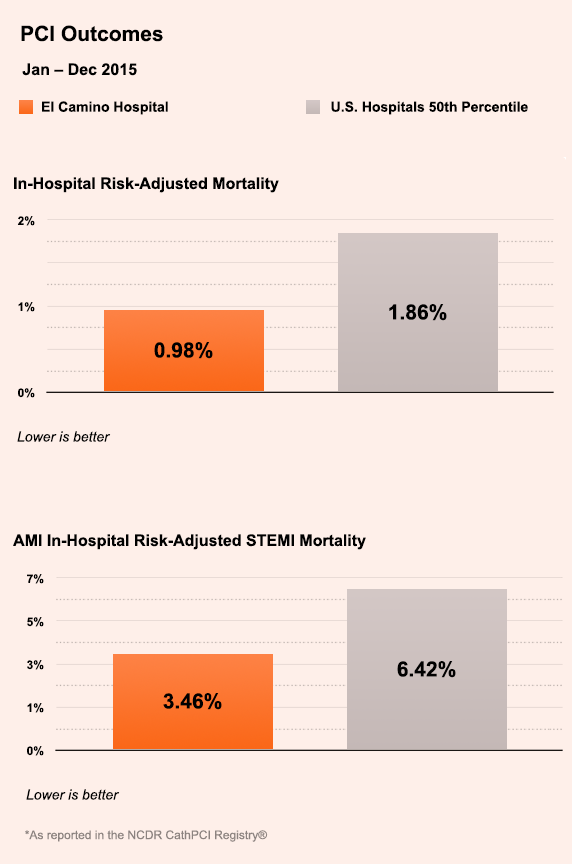 Transcatheter Valve Therapies
Diseases that affect the heart valves can be debilitating, and many people with these conditions aren't well enough to have traditional open heart surgery. El Camino Health has been at the forefront of offering innovative procedures, including Transcatheter aortic valve replacement (TAVR) and MitraClip Percutaneous Mitral Valve Repair to help these patients.
El Camino Health ranks significantly better than other U.S. hospitals in outcomes for both of these procedures. In 2015, none of our TAVR patients had bleeding complications or moderate to severe aortic regurgitation after their procedure, and our inpatient mortality was lower than the national hospital average. We completed all of our MitraClip procedures without a complication or mortality, and our patients averaged only one day in the hospital.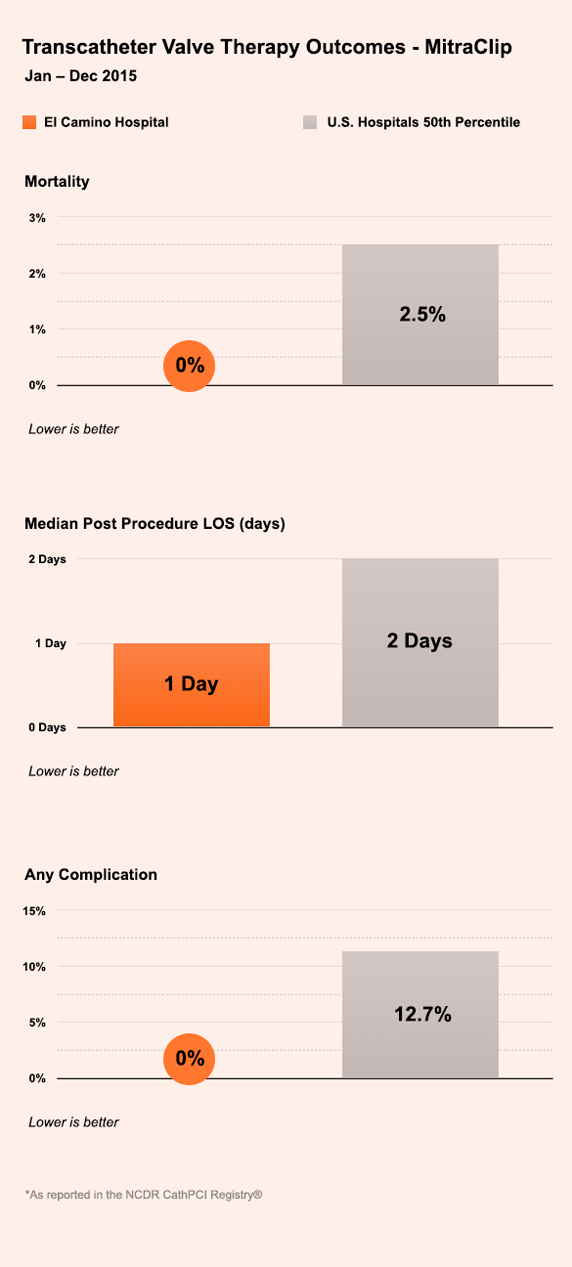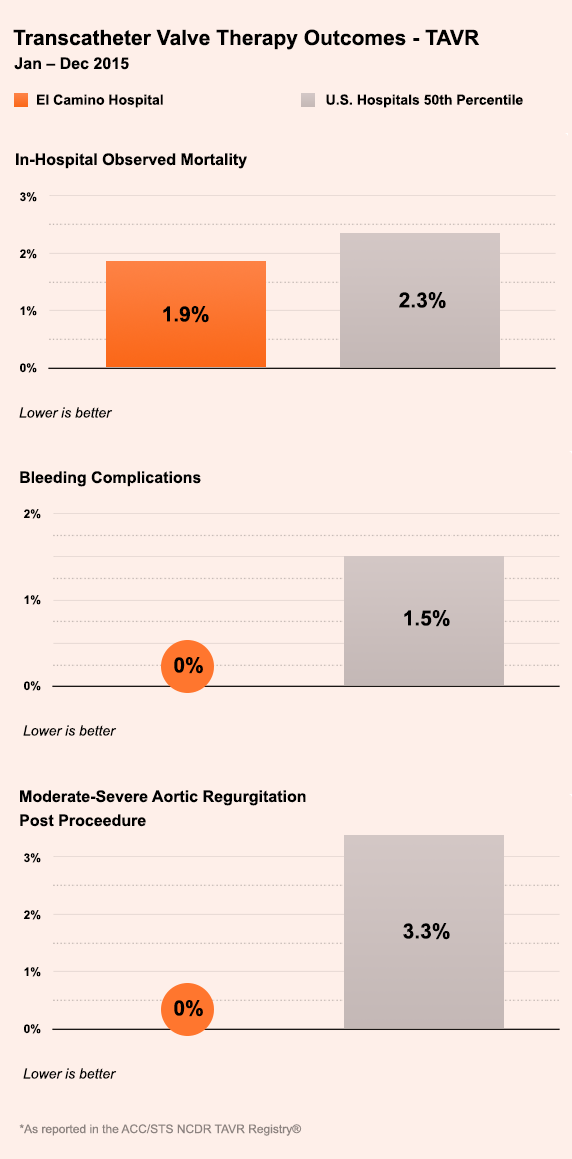 Coronary Artery Bypass Grafting (CABG) Surgery
Heart surgeons at El Camino Health are experienced in providing advanced approaches to coronary artery bypass grafting (CABG)— a surgical procedure that uses blood vessels from other areas of your body to restore blood flow to your heart. This relieves symptoms such as chest discomfort for patients with advanced heart disease.
Whenever possible, our specialists use advanced techniques such as beating-heart surgery and minimally invasive methods for harvesting grafting vessels. Our expertise with these procedures results in better outcomes for patients. In 2015, none of our patients undergoing a CABG procedure had an infection complication and they spent an average of 7.7 hours under ventilation, compared to the national hospital average of 18.4 hours.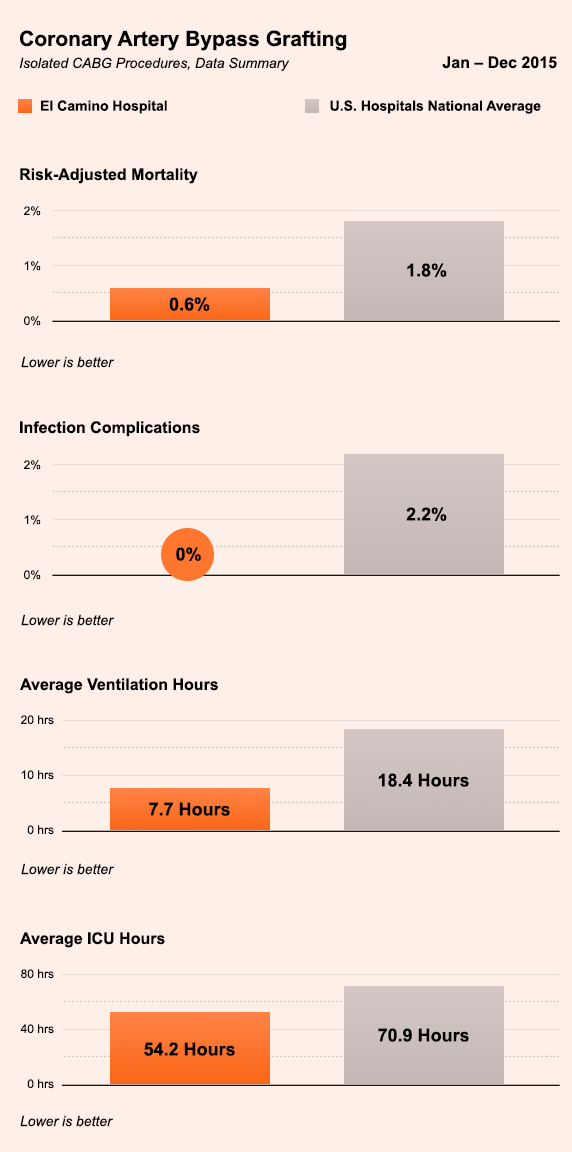 Aortic Valve Replacement and Mitral Valve Repair Surgery
For people who are well enough to undergo open heart surgery, El Camino Health offers some of the latest techniques in aortic valve replacement and mitral valve repair. We exceed all quality benchmarks, and in 2015, had no risk-adjusted mortalities. Compared to the national hospital average, our patients also spend far fewer hours on a ventilator, lowering their risk for complication.
Our success results from our expert surgeons, state-of-the-art equipment, and an exceptionally efficient technical team. All this ensures speed and efficiency in the operating room and better outcomes for patients. In fact, we were named among the top 5 percent in the nation for aortic valve replacement surgery by the Society of Thoracic Surgeons.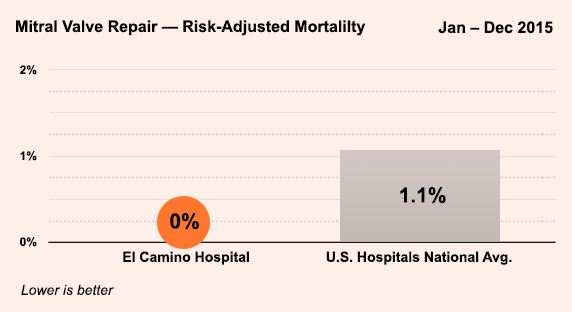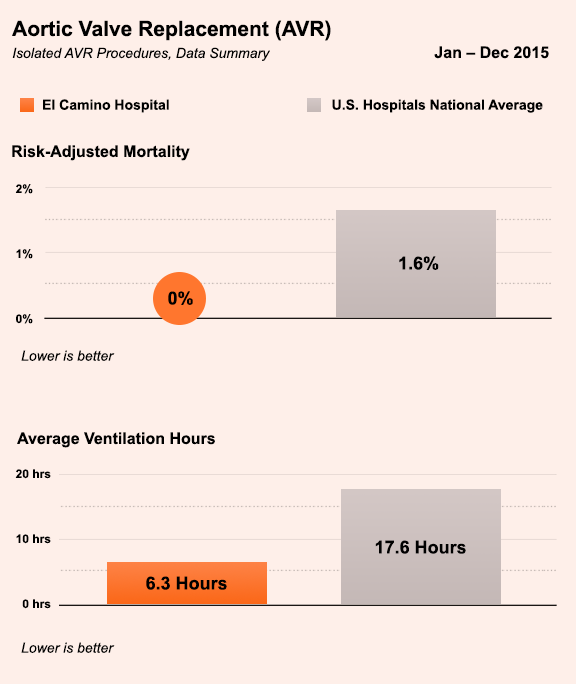 Commitment to Cardiac Rehabilitation
After a heart attack, heart surgery or other cardiac event, it's important to lower the risk for further problems. Our cardiovascular specialists understand that cardiac rehabilitation is an essential pathway to helping heart patients stay as healthy as possible. Our commitment to improving our patients' heart health is demonstrated by our program referral rates. We rank above the national average for referring patients who have had an AMI (heart attack), CABG (coronary artery bypass grafting) or PCI (percutaneous coronary intervention) to participate in cardiac rehabilitation.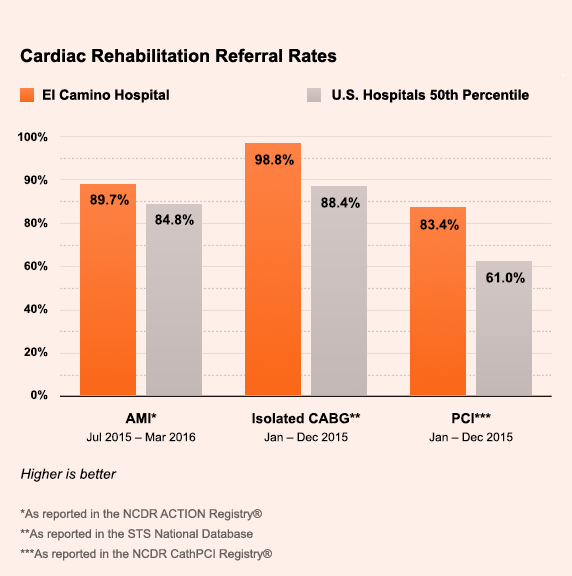 Terminology Defined
Risk-adjusted mortality rates – These are determined by comparing patients' actual mortality (death) rates to the expected rates, based on the extent of their illness. For example, a lower rate means that more heart attack patients survived than expected — expectations were lower because of the severity of their condition.