When you choose El Camino Health for stroke care, you can rest assured that you'll receive the highest level of quality and expertise. What's more, we are committed to continually assessing and improving the quality of our care through third-party patient outcome reports.
Hospitals use patient outcome reports to measure the safety and quality of care they provide. When you're choosing a hospital, patient outcomes information can help you make an informed decision. These reports also help hospitals compare their outcomes with other facilities and continuously improve the way they deliver care. El Camino Health tracks both outcome measures and proves measures, and our stroke care process is rigorously benchmarked against the best via American Heart/Stroke Association peer group, as shown in the following graphic.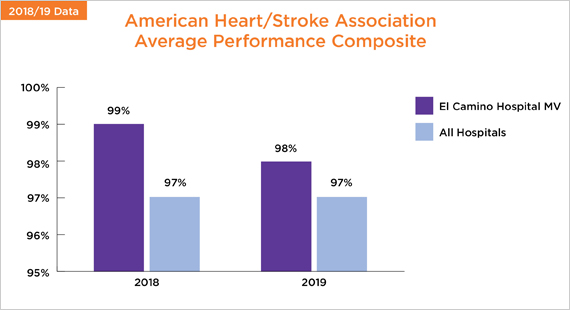 Expert Care for All Types of Strokes
El Camino Health's team of neurologists, neurointerventional radiologists and neurosurgeons has long been on the forefront of neurologic procedures for treating all types of strokes:
Ischemic stroke
Hemorrhagic stroke
Ruptured neurovascular dissections
Neurovascular aneurysms
Our team at the Peter C. Fung, MD, Stroke Center is experienced at recognizing and treating the most urgent type of stroke: ischemic stroke. This potentially life-threatening situation occurs when there's a complete blockage of blood flow to a vessel in the brain or leading to the brain.
Emergency Care for Stroke
If you or a loved one needs care for a suspected stroke, you can be sure that you'll receive the most efficient, expert care at our hospital. When patients with suspected stroke arrive to El Camino Health by emergency medical services (EMS) after calling 911, our emergency room is notified before the paramedics arrive with the patient. To ensure patients get immediate care, our stroke team experts are waiting at the door to begin a highly coordinated process. Our stroke team involved in this initial care includes:
Emergency physicians and nurses
Laboratory and computed tomography (CT) technicians
Radiologists
Neurologists
Neurointerventionalists
This team works together to assure that patients receive immediate care, which can lead to fewer long-term complications and better outcomes. Better outcomes may include enhanced mobility at time of hospital discharge and more patients discharged from the hospital directly to their homes.
We are continuously assessing and revising our emergency stroke care process to ensure we are delivering the speediest care with the latest research and technology to our patients. Our seamless process allows us to provide assessment and care to stroke patients within minutes of arrival — whether by EMS or by private vehicle. As a result of our skills and high standards, we've achieved 100 percent compliance with all essential measures for emergency stroke care.
Alteplase (tPA)
The first line care for ischemic stroke patients is treatment with a drug called Alteplase, also known as tPA, which can only be given within four-and-a-half hours of symptom onset. If the patient arrives within four hours of symptom onset, our team works aggressively to provide this treatment — for eligible patients — as quickly as possible.
Nearly 2 million brain cells die every minute during a stroke. For this reason, it is essential to treat stroke as quickly as possible. The American Heart/American Stroke Association's national goal is to treat ischemic stroke patients within 45 minutes of patient arrival to the Emergency Department. At El Camino Health, our goal is to treat ischemic stroke patients as quickly as possible, but no longer than 30 minutes after they've arrived at the hospital.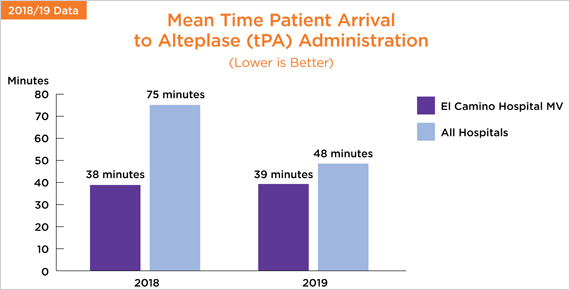 Mechanical Thrombectomy
For stroke patients with the most severe ischemic stroke, the stroke team at El Camino Health in Mountain View offers an advanced treatment called mechanical thrombectomy. Mechanical thrombectomy is a treatment provided by specialized physicians called neurointerventionalists. These highly skilled physicians can remove clots that block large blood vessels using a device called a stent retriever that grabs clots and removes them, in order to reestablish blood flow to the brain.
As with Alteplase treatment, our goal is to provide thrombectomy care as quickly as possible in order to improve patient outcomes. New research released in February 2018 from the DAWN and DEFUSE-3 trials found that this treatment can be effective for some patients who've been experiencing stroke symptoms for up to 24 hours prior to treatment. The chart below shows the time elapsed from patient arrival to thrombectomy procedure start times. El Camino Health is rigorously working to continuously improve timely initiation of thrombectomies.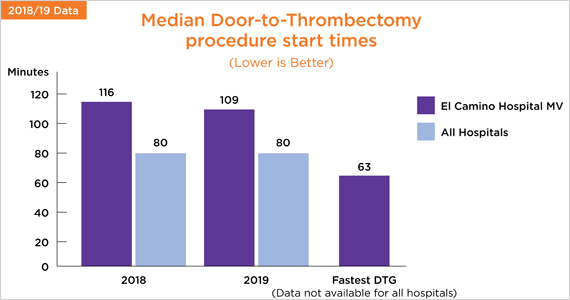 Outcomes After Stroke Treatment
Our Stroke Center is conscientious about measuring patient outcomes for both Alteplase and mechanical thrombectomy treatment. We do this in three main ways:
Complications Following Treatment
All complications that arise after stroke treatment are closely scrutinized by our stroke medical director and members of our stroke team. The most common adverse outcome for both Alteplase and mechanical thrombectomy is bleeding in the brain within 72 hours after treatment. This complication occurs in approximately 6 percent of patients treated with Alteplase. Bleeding in the brain most commonly occurs in patients who have a high stroke severity.
 

 

 
Patient Discharge Locations
Another way of tracking outcomes is to monitor the location of patient discharge. Ideally, a patient will recover well enough in the hospital to be discharged back to their home. Patients who are discharged from the hospital directly to their homes have a higher degree of function than those who are discharged to another type of facility.

Also ideal, some patients need to be discharged to an inpatient acute rehabilitation facility. Other patients need to be discharged to a skilled nursing facility. Alternatively, patients are sometimes discharged to another acute care hospital in order to align with their insurance requirements. For some patients with very severe strokes — or those who were not healthy before their stroke — patients are discharged to hospice care.

From the graphs below, you can see that the percentage of stroke patients returning home after both Alteplase treatment and mechanical thrombectomy at El Camino Health is higher than the average percentage of stroke patients who return home across all hospitals. Our goal is to treat your stroke and related symptoms, and to help you regain function and return to your daily life as quickly as possible.
 

 



Modified Rankin Scale (mRS)
Long-term stroke treatment outcomes are measured using the modified Rankin Scale (mRS). This tool is a commonly used scale for measuring the degree of disability or dependence in the daily activities of people who have suffered a stroke. It has become the most widely used clinical outcome measure for stroke clinical trials.

As seen in the data below, stroke patients who undergo mechanical thrombectomy treatment at El Camino Health are less likely to experience symptoms or disability at three months after treatment.