Healthy Connections Virtual Learning Series - Cardio-Oncology
Tuesday November 17, 2020 from 4:00 PM to 5:00 PM
El Camino Health Foundation presents Cardio-Oncology: A New Multidisciplinary Approach to Health and Healing
When
Tuesday November 17, 2020
4:00 PM - 5:00 PM


Online Event Instructions

Online link will be provided within a confirmation email after registering.
Description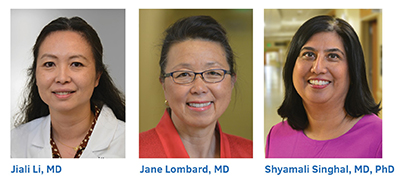 Medical oncologist Jiali Li, MD, Women's Heart Center Medical Director Jane Lombard, MD, and Cancer Center Medical Director Shyamali Singhal, MD, PhD will discuss the impact of cancer therapies on heart health and El Camino Health's pioneering Cardio-Oncology Center, one of the first in the nation. This event is free and open to the community.
For more information, please contact Sarah Garcia-Angulo by email at sarah_garcia-angulo@elcaminohealth.org.