Volunteering with Road Runners
Become a driver for Roadrunners! Volunteers provide door-to-door transportation for people who can't drive and don't have other ways to get to their medical appointments.
Skip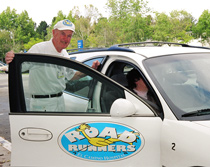 Drive one day a week, a half-day a week, or be on call--whatever fits into your life. Requirements: a clean California driver's license, patience and dependability. Orientation and training are provided and volunteers benefit from free access to hospital resources including classes offered through the education department. It's a wonderful job for an outgoing individual who enjoys interacting with people and likes to be active.
Individuals who are interested in becoming volunteer drivers: Please contact the Road Runners Coordinator at 650-988-7651.
Road Runners office hours:
Monday - Friday | 8:00 a.m. to 4:30 p.m.
---
You may also be interested in...