Nursing Annual Report 2023 |
Advancing a Healthy, Strong and Safe Practice Environment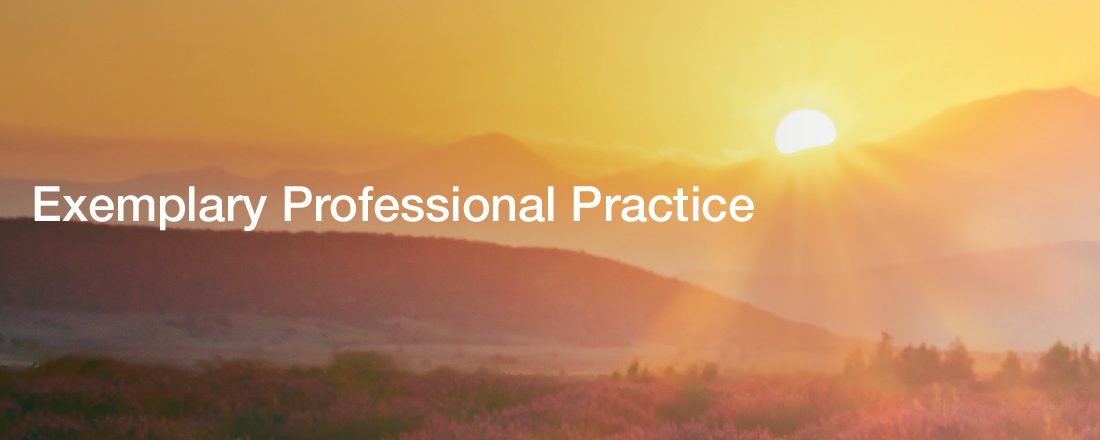 Professional Practice Model
El Camino Health's nursing professional practice model (PPM) emphasizes the patient being at the center of all care. These are the other key components of the model:

Caring and Family — words chosen by our nurses that reflect their practice.
Excellence — refers to the goal to deliver the highest quality care to patients.
Community — represents the hospital's history as a community-built organization and its future — broadening delivery of care across the continuum. Compassion — describes how our nurses deliver care.
Science and Innovation — reflect our legacy as the first hospital in the world to implement an Electronic Medical Record in 1971, and our culture of supporting nursing innovation through the Nursing Research Council.
Patient Care Team — captures the collaborative nature of care at El Camino Health.

Four key aspects of care enclose the labyrinth: Preventative, Restorative, Psychological-Spiritual, and Growth-Collaboration-Education.
Together Again: Reuniting Team Members While Making a Difference
Helping Out in the Community:
Los Gatos Medical Surgical Ortho Unit

As the COVID-19 pandemic continued, 2021 was a challenging year with restrictions preventing gatherings with staff. As in-person gathering restrictions began to fade in 2022, our Los Gatos Medical Surgical Orthopedic (MSO) Unit Partnership Council (UPC) felt that boosting morale with team bonding activities would bring joy and a renewed sense of unity in the work environment.

Our UPC created a new position called MSO UPC volunteer event coordinator. Our coordinator would help plan team bonding events outside of work, including volunteer opportunities to get together as a team and connect with the community. In March and April 2022, we hosted two "Take a Hike with MSO" events where our staff enjoyed a nice and challenging hike together, dogs were included in the outing as well.

In June 2022, UPC designed t-shirts with our motto #strongertogether. All staff are encouraged to wear their shirts every Friday and at group events, including our first volunteer event at Second Harvest Food Bank. Some of our other events include:

A picnic at Vasona Lake Park
Preparing meals with Martha's Kitchen for the unhoused and underserved individuals
A holiday party for children with special needs and their families hosted by Shining Stars' Holiday Respite Event

Through these events and volunteer opportunities, we hope to continue serving our community which aligns with El Camino Health's core values, while enjoying each other's company outside of work, and increase employee satisfaction.
Mental Health and Addiction Services: An Emphasis on Interaction
So much of what makes a person whole is relationships, and at El Camino Health's Scrivner Center for Mental Health and Addiction Services (MHAS), we incorporate that vital human need for interaction and belonging to help patients heal.

Goal Conferences: Including Patient Families

We include family and other significant people in a patient's life when formulating individualized care plans by holding an interdisciplinary goals conference within three days of admission. This open format encourages the patient to have confidence in their ability to participate in their care and is a hallmark of MHAS. Nurses spend an extensive amount of time with patients and provide insightful assessments to the team. One of our nurses reported, "I found that I learned much more about the patient in the goals conference than I did just having a one-on-one conversation. The patient and family expressed thanks that we had this meeting."

Considering the benefits of the goals conference, one of our department goals is to increase the number of conferences to 55% this fiscal year. Our baseline was 14%, and after several process improvements, including standardized work, we have exceeded our goal and are now at 64%. We look forward to continued collaboration with our patients and families.

Partnership with National Alliance on Mental Illness

Another example of interaction and belonging to enhance healing is our community partnership with the Santa Clara County chapter of the National Alliance on Mental Illness (NAMI). By inviting NAMI mentors from their community peer program for regularly scheduled time on the units, patients are able to make connections beyond hospitalization. This program is for those living with a mental health condition who want to maintain wellness and recovery through mentor-ship.

Mental Health and Addiction Services:
Caring for all of our patients

Improving Perinatal Mental Health Assessments

Referencing the El Camino Health Nursing Professional Practice model, MHAS integrated science and innovation through a new assessment tool for mother-infant engagement. Our women's specialty unit serves women with perinatal mental health conditions.

We improved our assessment of this population by adopting the Bethlem Mother Infant Interaction Scale (BMIS), a validated tool that measures the quality of mother-infant interaction including eye contact, vocal contact, physical contact, and mood. Nurses observe and assess the mother-infant dyad and have stated the process helps guide their care and standardizes the assessment.

Dr. Nirmaljit Dhami, medical director of this program, commented that she appreciates the nurses, "excellent report regarding patient's interaction with her baby and the astute and helpful observations."

From a patient's perspective, a client in March 2022 provided this feedback, "I feel very lucky that I had access to specialist doctors, nurses, therapists, and peer support… for my treatment and recovery. I know this is sadly not the case for many women who experience postpartum psychosis and perinatal psychiatric illness."
Mother-Baby Unit Partnership Council
The Mother-Baby Unit (MBU) Partnership Council (UPC) in Mountain View is a multi-disciplinary group that consists of registered nurses, licensed vocational nurses, leadership, educators, and physicians committed to providing patients with the best care. We represent more than 170 nursing staff. Since our patient population consists of adult moms, newborns, and the family unit, the importance of the multi-disciplinary team is essential.

Over the past nine months, our UPC has gone above and beyond to update protocols, write and approve education for families, trial and start performance improvement projects, and develop a new wellness space for our staff. This work has streamlined the patient-centered care we provide by nurses and providers and has been worth all of our efforts. Some examples include:

Goal-oriented Exclusive Breastfeeding
Enhanced Recovery After Cesarean (ERAC)
Hemorrhage Risk Assessment
Hyperbilirubinemia Assessment and Treatment
Maternal Mental Health Evaluation
Newborn Bathing Procedure and Education

Keeping it ZEN:
Michelle Kazel, RN taking a few moments

Creating "Zen Dens" for Nurses

The pandemic and post-pandemic life has greatly affected the resilience of our staff, and we recognized the need to improve the wellness of our team. We firmly believe that to provide the best care to our patients, we needed to prioritize the wellness of our staff. The development of the Zen Den for our team has been a crucial respite during each shift.

"I have used the Zen Den a few times and have found it helpful in being able to have a quiet place to go to relax and clear the mind." - Amy Lind, BSN, RN, RNC-MNN, Mother-Baby Unit

"Having the option for a quiet spot to sip my tea in peace has made me feel happy and grateful that our unit offers this option. Thank you for making this space available for all of us to enjoy! We are so lucky." – Jen Ereno, BSN, RN, NUC MBU

Zen Dens have also been implemented in the critical care unit, the medical/surgical and oncology unit, and the telemetry stroke unit. The Zen Dens are peaceful environments that include sofas, massage chairs, an essential oil diffuser, and promoting psycho-social wellness through aromatherapy, music, and massage. The mindfulness-based intervention has led to increased staff engagement and safer patient care across all units.
Setting the Standard: Los Gatos Honor Walk
It's been said that death is an inevitable part of life. Nurses who work in the intensive care unit (ICU) know this more intimately than most. Many patients die in the ICU on life sustaining machines, or shortly after their removal. Only patients with a heartbeat receiving mechanical ventilation meet the strict criteria to become organ donors. At El Camino Health's Los Gatos campus, we were recently faced with a young patient who qualified to give the gift of life, and at her family's request, we hosted our first honor walk in Los Gatos.

Planning the Walk

As we planned the honor walk, we developed a sustainable practice for honor walks for all future organ donor patients on campus. An honor walk involves staff from all areas of the hospital lining the halls as they are wheeled from the ICU to the operating room for organ recovery. It is a way to show appreciation for the organ donor and their family and friends and to honor this last gift of life.

There was a considerable time constraint to develop a process as this patient could be called to the operating room for organ recovery at any time. First, we reached out to our Donor Network West hospital liaison and asked her for resources on honor walks. Next, we contacted the manager of the Critical Care Unit at the Mountain View campus, and asked about their process to see what could be applied in Los Gatos. After obtaining support from management and compiling resources, we quickly developed a process for an honor walk at the Los Gatos campus.

Creating A Keepsake

We also collaborated with the corporate communications team on a keepsake video of the honor walk which was also requested by the family. Together, we ensured appropriate consents for video and photography were completed to ensure the legal protections of everyone involved. With permission from the family, the video of the honor walk was shared on El Camino Health's social media channels to draw attention to the importance of organ donation.

Results

In the end, our team pulled together an honor walk that was lauded as one of the most successful honor walks that the Donor Network West coordinator had seen in a hospitals of a similar size. Our patient was honored by more than 75 staff members. Many staff members stayed late or drove from Mountain View to attend the honor walk. The patient's family requested an environment of celebration, so as the patient was wheeled down the hall staff members and visitors applauded to celebrate a hero who will go on to save lives. Our team's outstanding work and attention to detail set the standard for all future honor walks at El Camino Health.
Reflections on Nurse Resilience
Building Nurse Resilience:
Sharing Pictures of Our Pets

The nursing profession can be challenging. Many nurses report stress from situations such as work overload, role conflicts, lack of time, staffing issues, shift work, lack of self-care, and poor job-related interpersonal relationships (Kelly et al., 2021). Nurses also reported feeling powerless to provide quality care and struggling with competing priorities. Difficulties ensuring excellent patient care, uncertainty concerning treatment, death and dying, conflict with doctors, peers and supervisors, and inadequate emotional preparation were issues that concerns nurses and lead to burnout (Maslach & Leiter, 2016).

All these factors can lead to a host of physical and mental distress among nurses, including fatigue, irritability, lack of concentration, and can have lasting impact on not only nurses, but also the organization and patients (Maslach, & Leiter, 2016).

The solution lies, at least in part, in a characteristic called resilience, which is the ability to adopt to highly stressful and difficult situations. Nurses who demonstrate resilience are better able to avoid burnout and perform better during their daily job functions. Those who lack resilience are more likely to develop personal coping problems, which can affect performance and patient outcomes (Kelly et al., 2021).

The COVID-19 pandemic added another layer of challenges to nursing staff, and placed great demand and stress on the lives of staff. Nurses needed an outlet and a way to decompress while at work. The Unit Partnership Council (UPC) on 3B, embarked on a journey to improve staff resilience through creating a pet wall. The team wanted to create a space for healing, where staff could feel a sense of peace and connection to their pets while at work. Staff provided photos of their pets for the wall, providing a means of comfort to the team as well as patients and their families.

A resilient team works together to find common ground, and sometimes it is a simple as connecting over their love for animals. Resilience requires a level of self-awareness among team members, and empathy that may not come naturally to all team members. Leaders can support their teams, identify areas of opportunities, and help team members break down barriers by establishing a common bond, which builds an environment of trust.

References

Kelly, L. A., Gee, P. M., & Butler, R. J. (2021). Impact of nurse burnout on organizational and position turnover. Nursing Outlook, 69(1), 96–102. https://doi.org/10.1016/j.outlook.2020.06.008

Maslach, C., & Leiter, M. P. (2016). Understanding the burnout experience: Recent research and its implications for psychiatry. World psychiatry: Official Journal of the World Psychiatric Association (WPA), 15(2), 103–111. https://doi.org/10.1002/wps.20311
Rising to the Challenge and Adapting to a Changing Patient Population
The past year brought many changes to the pre-operative unit. These changes challenged us, but helped broaden our knowledge base. To help with the consistently high patient volume in the hospital, we began caring for more Cath lab patients after their procedures.

To further our knowledge in caring for post-procedure cardiac patients, which include WATCHMAN™ and cardiac ablation patients, many nurses attended an in-service training on a Saturday. These Cath lab patients are just one sub-set of patients we care for and discharge on the same day. As of November 2022, we discharged 407 patients.

Working Together for Our Patients:
Linda Boateng, RN and Kimsa Luong, RN

In addition, we started calling patients the day before their surgery, to ensure patients understand pre-operative instructions and to avoid cancellations the same day. Along with these phone calls, we began monitoring calls from Cipher, our patient engagement platform, to follow up on issues experienced by patients who spent the night in the hospital.

Despite these changes and new challenges, we continuously score high on the Press Ganey scale with our patients. Many nurses are also working toward earning their CNIII and CNIV certifications.