Nursing Annual Report 2023 |
Advancing a Healthy, Strong and Safe Practice Environment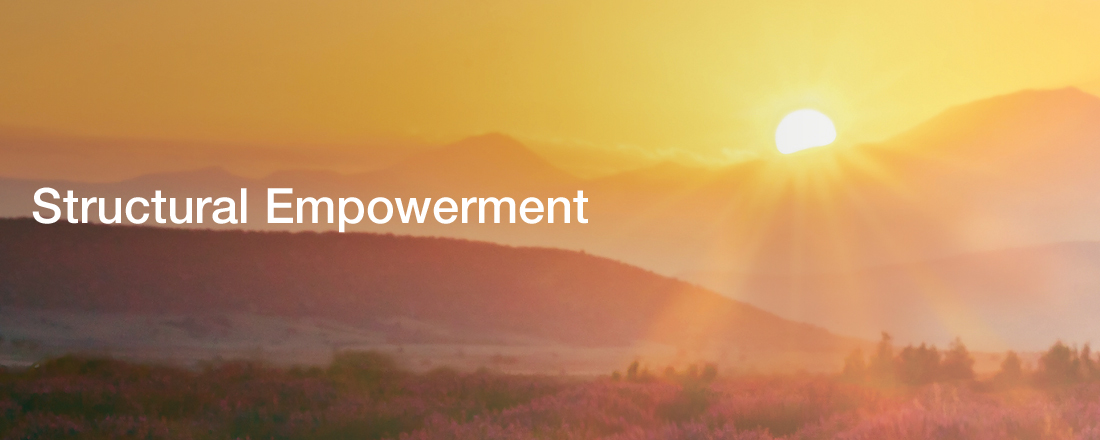 Bridge Program
El Camino Health's innovative bridge program helps retain nurses who might have been at risk of leaving the profession completely by helping nurses who worked in non-acute care settings gain the skills needed to provide safe, quality care in the acute care setting.

The intensive, six-week clinical program includes didactic content focusing on:

Clinical reasoning
Critical thinking
Scope of practice
Communication
Delegation
Time management
Resource management
Ethical considerations
Self-care
Resiliency
Stress management
Teamwork
Professional growth and development

Bridging the Gap:
Our New Acute Care Nurses

Concurrently, the nurses are paired with a preceptor on the nursing to unit to gain hands-on clinical experience. Program leaders provide in-person support through structured check-ins, helping to ensure that the bridge to acute care is meaningful and builds a foundation for competent, independent professional practice, for each new bridge nurse.

So far, El Camino Health has had three cohorts of bridge nursing classes, with the first group starting in January 2022, and cohort three which finished in March 2023.
Neonatal Intensive Care Unit (NICU) Transition Program
For the first time ever, the NICU offered a transition program to current El Camino Health nurses with at least two years of experience in another area. Nurses who work in the NICU are passionate about caring for our tiniest patients and their families, and as a result NICUs usually have low turnover rates. However, our Level III NICU on the Mountain View campus had several nurses retire in recent years. The NICU has also seen a sharp increase in the number of patients and their acuity.

Eight nurses were selected for the transition program which ran 12-weeks from September to November 2022. The entire NICU team came together to acclimate them with a didactic program lead by the neonatal clinical nurse specialist. Instructors in the classes were fellow nurses, physicians, respiratory therapists, physical therapists, lactation consultants, and even former NICU parents. They received certification in S.T.A.B.L.E. which is an 8-hour course in the post-resuscitation/pre-transport stabilization care of sick infants, and neonatal resuscitation provider (NRP), which covers resuscitation in the immediate newborn period. They also had more than 350 hours of precepted time in the NICU.

Taking Care of Our Tiniest Patients
NICU Transition Nurses

In addition to bedside care, they also spent time shadowing the NICU resource nurse who attends high risk deliveries and C-sections, the NICU lactation consultant, and nurses in labor and delivery, and the mother-baby unit to see how the role of the NICU nurse integrates with the whole maternal child health team. The NICU transition nurses gained experience in caring for extreme premature infants as well as infants of all gestational ages with the following conditions:

Suspected Sepsis
Respiratory Distress
Hyperbilirubinemia
Hypoglycemia
Neurological Issues
Cardiac Issues, and other conditions requiring intensive care

The transition nurses brought with them a wide variety of nursing experience and a high level of enthusiasm which helped them succeed in the program. Please join us in congratulating our first class of NICU transition program graduates:

Cherisse Bacani
Michelle-Lani Granados
Kevin Le
Ray Mercado
Vivian Pham
Michael Shin
Briana Squiers
Victoria Skrzypiec
Certifications and Degrees for 2022
2022 Certifications
2022 Degrees

CAPA
Kate Damian
Soad Geli
Delia Johnson

CCRN
Alexandra Keihl
Jenny Lam
Sara O'Dowd
Oxana Perkova
Kayla Wilson

CCRP
Andrea Vos

C-ELBW
Kelly Younger

CCM
Elsa Fei
Minh Hieu

CLE
Sophia Palaad
Jamie Stidham

CMSRN
Leslie Hernandez-Sanchez
Monique Jones
Marlia Seiden

CRN
Sarah Rice
Stuart Torrano

GERO
Savannah Schmidt

IBCLC
Meenu Agroia
Twinkle Jose Moothedan

LEC
Sally Hung
Marilou Llobrera

RNC-MNN
Antonette Araujo
Lisa Brandi
Michelle Kazel
Allison Layton
Stephanie Maschal
Stephanie Nguyen- Berti
Daphne Singh
Sophia Wong
Julianna Youssef

MEDSURG
Reina Bato
Cherrie Brosas
Fatiha Benyami
Melissa Bradley
Lisa Brunger
Leilani Agpoon Clanton
Andrea Fernandez
Stephanie Geronimo
Lily Kuang
Benjamin Kung
Jessica Lieu
Radhika Neelakantan
Monique Osborn
Patrick Penuliar
Diana Silva
Mona Soleimanieh
Mary Solis
Tanya Tran

NEA-BC
Shara Poppe

NPD
Margie Kunz

OCN
Winnie Sin

PCCN
Kathryn Ball
Bridget Denzel
Jasmine Kaur
Chris May
Mackenzie McMillan
Farida Padojino
Nicole Sutter

PMHN
Priscilla Beavers-Silva
Emily Clarke
Shane Luke
Moises Noza

RCIS
Milbert Carrera

RNC-IAP
Kathryn Moresco
Kathryn Wiles

RNC-NIC
Dana Baicher
Cathy Chin
Linda Landof
Courtney Monsantofils
Shanese Scott

RNC-OB
Amanda Robinson

Veronica Palustra: Master of Jurisprudence Health Law


Bridget Samano: Master of Science in Nursing, Family Nurse Practitioner (MSN, FNP)
Kimberly Tran: Master of Science in Nursing, Family Nurse Practitioner (MSN, FNP)


Ebony Boles: Bachelor of Science in Nursing (BSN)
Melissa Godoy: Bachelor of Science in Nursing (BSN)
Elizabeth Halligan: Bachelor of Science in Nursing (BSN)
Jessica Headman: Bachelor of Science in Nursing (BSN)
Julie Madrid: Bachelor of Science in Nursing (BSN)
Milagros Sherwin: Bachelor of Science in Nursing (BSN)
Recognition: DAISY Award®
| | |
| --- | --- |
| Our nominations for the DAISY Award® continue to increase. We had over 400 nominations in 2022 with 12 winners. The DAISY Award has given our nurses the reminder that the extraordinary care and respect they give to their patients and families each day, is extremely impactful and meaningful. | |

January

---

Karen Roman, Cardiac & Pulmonary Wellness Center

February

---

Harumi Key, Emergency Care

March

---

Bruce Mori, Emergency Care

April

---

Sylvia Sinsay, Oncology

May

---

Uyen Luna Le, Progressive Care Unit

June

---

Cassandra Chu, Surgical Unit

July

---

Samantha Oxley, Oncology

August

---

Jhouryle Concepcion, Scrivner Center for Mental Health & Addiction Services

September

---

Sandi Miller, Mother-Baby Unit

October

---

Mark Garvey, Emergency Care

November

---

Roksaneh Larijani, Cancer Care

December

---

Vu Nguyen, Critical Care
 
Escape Rooms for Nursing Education
The El Camino Health obstetrics (OB) simulation team has been working for years to bring annual education, including team simulated drills, to the labor and delivery (L&D) nurses at Mountain View's Women's Hospital. The four-hour days consist of hands-on skills stations, interdisciplinary simulations, and debriefs aimed to prepare for and discuss the technicalities & implications of low-frequency, high-risk OB clinical scenarios.
In 2022, the OB simulation team designed and implemented an escape room as a novel teaching modality focused on severe range hypertension and preeclampsia.
The Importance of Interactive Learning
It is well known that lecturing is not the most effective teaching style, and most people report a preference for and improved retention from hands-on experiences and interactive participation. With the constant influx of new nurses, hospitals need innovative approaches for productive learning environments.
The escape room, which originated as a recreational activity, has recently gained attention of educators in the medical field. Participants are presented a scenario and must work together to solve riddles and find clues to "escape" or "save the patient" in a fixed amount of time. The escape room's general approach applies well to situations and pressures found within the medical profession.
Designing the Escape Room
To design the escape room, we first clarified learning objectives, then developed a clinical scenario to meet those needs. Each escape room team consisted of four to six nurses, who were provided with a general overview of instructions and rules. The team with the fastest "escape time" is photographed and awarded a prize after all teams complete the activity.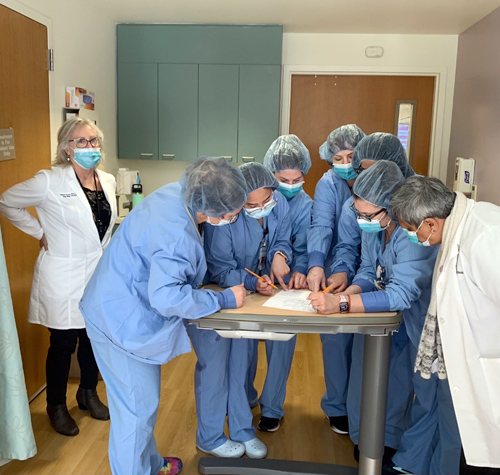 Escape Room Challenge
Ready, Set, Learn
Once the escape room begins, teams must solve clues in order, and perform patient assessments and interventions correctly to advance. There were keys taped on the simulated patient, which were discovered when targeted preeclampsia assessments were performed. Locked boxes were placed throughout the room which held clues and tools that enabled the team to move ahead once they were opened.
Debriefing and Learnings
After the teams completed the escape room, we recorded their times and conducted a debrief. The debrief included revisiting the clinical scenario and learning objectives that were completed as they cared for the patient. We discussed techniques to ensure accurate blood pressure readings, nursing orders for severe range blood pressures, and diagnostic criteria for preeclampsia with severe features. This led to group discussions, which provided a safe environment for nurses to ask questions and share stories, which they may not otherwise have the time to discuss and learn from.
As teams completed the escape room, we watched unique and unexpected leadership and teamwork dynamics evolve. Many of the less experienced nurses intuitively led their teams by thinking "outside the box" to help solve the riddles. Diverse strengths within the team lead to successful problem solving and teamwork. Nurses are overwhelmingly asking for more escape rooms for future education. This creative educational offering may give rise to escape rooms as an essential component of all nursing education for years to come.