El Camino Health - Los Gatos Hospital
Skip to main content
Patient & Visitor Information
Visiting Hours
Monday - Sunday:
12:00 am - 12:00 am
(Open 24 hours)
Resources
Campus Map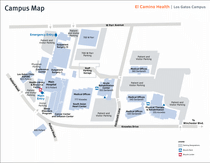 Parking
Parking is available in front of the building and on the left side of the main building entrance.
Emergency room parking is available off Parr Avenue, behind the hospital.
About
El Camino Health - Los Gatos Hospital
Our Los Gatos Hospital staff, doctors and volunteers have been proudly delivering compassionate, forward-thinking care for more than 10 years as part of our El Camino Health family.