El Camino Health offers the most advanced heart, vascular and stroke care in the South Bay area, exceeding national averages in both outcomes and quality measures. Our team at the Norma Melchor Heart & Vascular Institute includes nationally recognized experts who work with the most advanced technology and treatment options available. The Institute provides innovative care typically found at large academic medical centers, but with the added comfort and convenience of your neighborhood hospital.

What We Offer:
Advanced, minimally invasive treatments to clear blocked blood vessels

Heart attack expertise, earning us specialty designation as a STEMI Receiving Center.

Specialized care for heart rhythm disorders. We offer minimally invasive ablation therapy and the latest implantable devices to treat arrhythmias, including the WATCHMAN™ Implant.

A comprehensive, nationally certified heart and lung rehabilitation program — the first in the region.

Programs and screenings to help people at high risk for heart disease and diabetes such as our South Asian Heart Center.
Accept nothing less than new valves and your old life back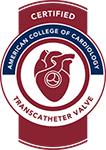 El Camino Health was the first in California to achieve the Transcatheter Valve Certification by the American College of Cardiology (ACC). El Camino Health is well known for high-quality, innovative and pioneering work in cardiovascular care, and this certification acknowledges our exceptional physician leadership, quality of care, patient outcomes, and team-based collaboration.
Award-winning cardiovascular care
| | |
| --- | --- |
| | El Camino Health received the Platinum Performance Achievement Award from the American College of Cardiology (ACC)'s Chest Pain — MI Registry for its outstanding outcomes in 2018, 2019, 2020, 2021, and 2022. |
| | Our surgical valve program holds the highest possible rating of three stars from the Society of Thoracic Surgeons (STS) in overall isolated aortic valve replacement (AVR), in overall isolated mitral valve repair/replacement (MVRR), and in overall isolated coronary artery bypass graft surgery (CABG). |
| | Since 2005, the Cardiac & Pulmonary Wellness Center in Mountain View has been consistently recognized by the American Association of Cardiovascular and Pulmonary Rehabilitation (AACVPR) for our commitment to enhancing standards of care in the delivery of our cardiac and pulmonary rehabilitation programs. |
| | The three-year term accreditation awarded to El Camino Hospital by the Intersocietal Accreditation Commission (IAC) in Echocardiography demonstrates our ongoing commitment to providing quality patient care in echocardiography. |
Sign up to hear from El Camino Health's cardiology experts and learn more about our programs and services.
*By clicking "Sign Up," I agree to the El Camino Health Terms of Use and Privacy Policies. I also agree to receive emails from El Camino Health, and I understand that I may opt out of El Camino Health emails at any time.
Accept Nothing Less
than El Camino Health.
* El Camino Health participates in multiple national cardiovascular registries in which we perform in the top decile, including, NCDR CathPCI Registry®, NCDR Chest Pain - MI Registry™, NCDR AFib Ablation Registry™, STS/ACC TVT Registry™, NCDR LAAO Registry™, SVS Vascular Quality Initiative®, STS Adult Cardiac Surgery registry.