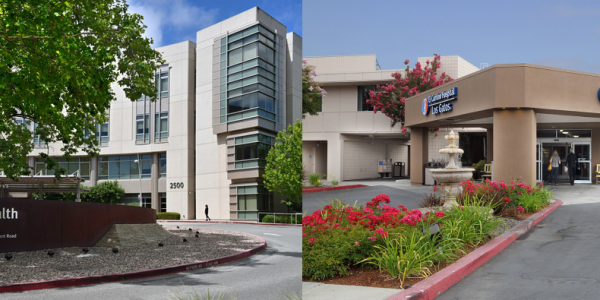 In the mid-1950s, when Los Altos and Mountain View orchards and fields were quickly turning into suburbs and commercial enclaves, a group of physicians and concerned citizens banded together to establish a much-needed community hospital. The few existing local hospitals were at capacity; hospitals to the north and south were badly overcrowded. They decided that the best and fairest way was to form a hospital district and levy a tax so the cost would be shared among the population of the entire area.
Original Hospital Construction Stages

| | | |
| --- | --- | --- |
| | | |
Bringing that vision to life, El Camino Hospital opened our doors 60 years ago with a mission to heal, relieve suffering and advance wellness in our community. Since then, we have expanded our services and care locations across Santa Clara County with the addition of our Los Gatos hospital in 2009 and our urgent care, multi-specialty care and primary care locations in 2019. We changed our brand name to El Camino Health in 2019 to reflect our expansion across the full continuum of care for our patients. Today, our nationally recognized doctors, nurses and care teams are committed to providing the highest quality, personalized care designed around patients' unique healthcare needs.
From the start, El Camino Health has embraced forward thinking approaches that cultivate innovation and lead to better health outcomes. In 1971, the first computerized provider order entry (CPOE) system in the U.S. was introduced at El Camino Health in partnership with Lockheed Martin. It went on to revolutionize physician ordering — replacing paper orders for medications, lab and imaging tests, and other medical services, and serving as a precursor to the electronic medical records systems to come. The result was significantly reduced medication errors and increased efficiency and cost savings.
That pioneering spirit has persisted, resulting in many other "firsts" at our hospitals:
Our commitment to delivering evidence-based care in partnership with our patients and families is as strong today as it was when we began operation. As a result, El Camino Health is known nationwide for patient safety excellence. We have earned five stars from the Centers for Medicare and Medicaid Services, an 'A' grade from the Leapfrog Group, the Healthgrades Outstanding Patient Experience Award and IMB-Watson Health 100 Top Hospitals lists in 2021 alone. Our nursing program has been recognized for 16 consecutive years with the Magnet Designation — only eight percent of hospitals in the country have the Magnet designation, and less than one percent are four-time designees. And our ability to deliver an exceptional patient experience marked by the highest levels of safety starts with our commitment to invest in our most precious resource — our employees.
The success of our mission simply is not possible without our staff. From those on our frontlines, to our physicians, nurses, support and administrative staff, volunteers, donors, partners, friends and our board members, it is their commitment and efforts that make El Camino Health a strong healthcare partner and vital part of our community. This commitment is further demonstrated through the longevity of many employees who have dedicated their entire careers to El Camino Health — 20, 30 and 40 years or more. Some of our staff were even born here! Our health care system is rooted in the community, and so are our employees.
First Auxiliary Board

No one knows more about the El Camino Health legacy than our Auxiliary. The Auxiliary Board of Directors has been supporting our hospitals since the beginning — before they opened their doors, in fact. Today, our Auxiliary team carries on the warm glow of service for which they are known by recruiting volunteers, fundraising for the hospital and aiding departments across the organization. Learn more about their dedication to supporting our hospitals and patients here.
Also supporting El Camino Health for decades is the El Camino Health Foundation. They support investment in new technology, seed innovative programs that meet emerging needs and provide assistance for patients who could use an extra hand. This year, they celebrate the 10th anniversary of the Norma's Literary Luncheon and the 25th anniversary of the El Camino Health Foundation Golf Tournament, two important benefit events for our organization.
We also are dedicated to ensuring improved healthcare — outside of our hospital and clinic walls — for the communities we serve. Since 2007 alone, we have contributed nearly $823 million in community benefit. This figure also includes grants, sponsorships and in-kind donations that together, with contributions from the El Camino Healthcare District, totals more than $100 million reinvested within our communities.
El Camino Health is proud to continue into our seventh decade serving Mountain View and the greater Santa Clara County. We thank the generations of local families who have entrusted us with their care for the past 60 years, and look forward to serving you for 60 more.