Surgical and Interventional Services
We offer comprehensive surgical services from head to toe — from traditional open surgery to minimally invasive techniques and robotic-assisted surgery.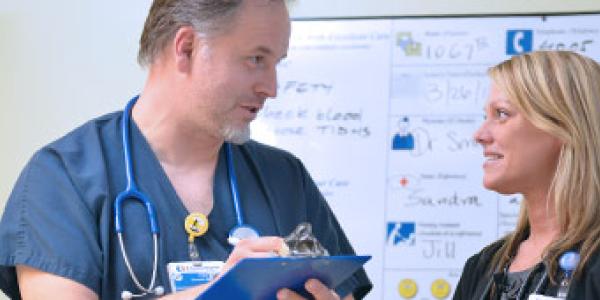 The decision to have surgery can be a difficult one. Your medical team at El Camino Health will help you make the choice that's right for you. When surgery is your best option, you can be assured that El Camino Health's surgical professionals will see you through the experience with skill, teamwork and compassion.

Both Mountain View Hospital (El Camino Hospital) and Los Gatos Hospital have been recognized nationally for quality, performance and teamwork. Our clinicians — surgeons, nurses, anesthesiologists, technologists, therapists and others — work in concert with each other to make sure you get the best quality surgical care. 

We believe an important aspect of good surgical care is ensuring you have the resources you need to have a satisfying surgical experience, including information about your surgery and anesthesia.
 
Surgical Services Highlights
We offer comprehensive surgical care to meet your needs, including:
Preoperative education. Depending on your surgery, there may be preoperative education classes to help you understand your procedure and what to expect during recovery. 
Minimally invasive surgery. This less invasive surgery uses specialized techniques and small incisions — robotic-assisted surgery is a type of minimally invasive surgery. Small incisions result in less pain and scarring, fewer complications and a quicker recovery. 
Outpatient surgery. El Camino Hospital offers outpatient surgery services at our Mountain View campus and the Los Gatos campus.
Comprehensive rehabilitation services. If you require rehabilitation after your surgery, our rehabilitation experts offer comprehensive care to help you recover.
Mountain View Hospital (El Camino Hospital) is a participant in the American College of Surgeons National Surgical Quality Improvement Program (ACS NSQIP®).  ACS NSQIP® is the first nationally validated, outcomes-based program used to measure and improve the quality of surgical care.
Interventional Services Highlights
Interventional procedures are noninvasive or minimally invasive treatment options that can help you avoid surgery and, in some cases, an overnight hospital stay. These techniques use a variety of thin, flexible tubes fitted with special cameras — catheters, endoscopes and bronchoscopes — that allow interventional specialists to diagnose and treat a variety of conditions without surgery.

We offer a full range of sophisticated services, including:

We offer a full range of surgical and interventional services, including: