Our pharmacy professionals work alongside your healthcare team to keep you safe and offer you greater convenience for getting your prescriptions filled.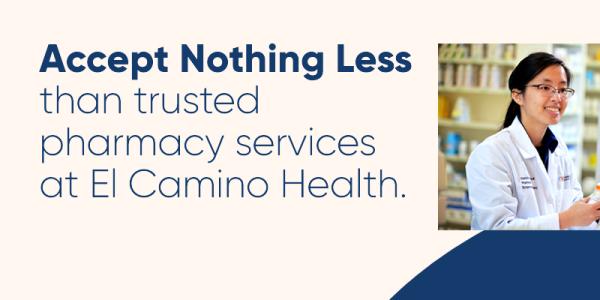 At El Camino Health, our pharmacy staff is part of your healthcare team. We offer comprehensive services while you're in the hospital, as well as a retail pharmacy for your convenience. You can depend on highly trained pharmacists and pharmacy technicians who know about your condition and are focused on your health and safety.
Comprehensive Pharmacy Services
Our dedicated pharmacy staff provides personalized attention to ensure the best possible results. We offer one-on-one consultations to make sure you understand your medications and how to take them. We're here to answer questions, work with your insurance provider, and help you with over-the-counter health supplies.
We offer a variety of trusted, pharmacy services to help you stay healthy, including:
Pharmacy – We carry a full inventory of prescriptions and over-the-counter items, conveniently located at the main entrance lobby of Mountain View Hospital (El Camino Hospital). We offer fast, easy prescription refills and a prescription management program that saves you multiple trips to the pharmacy.
Bedside prescription delivery – Get all your prescriptions delivered to your room before you leave the hospital. You go home knowing you have everything you need to stay healthy.
Our pharmacies are staffed by registered pharmacists and certified pharmacy technicians. We use the latest innovations in pharmacy technology to fill prescriptions both safely and efficiently.