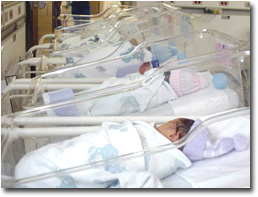 Los Gatos mom Rebecca Geshuri had always planned to have her third baby at El Camino Hospital Los Gatos. After all, she'd given birth to her first two children there, and she'd had a good experience with both deliveries.
So, she filled out her pre-registration papers and waited for the big day to come.
But what Rebecca didn't expect was to have her baby come six weeks early. On May 23, 2010, Rebecca began experiencing a dangerous condition known as preeclampsia, which prompted her to have an emergency C-section — a full month and a half before her due date. Since her baby was a preemie, the newborn needed to remain in the neonatal intensive care unit (NICU) for three weeks.
Although Rebecca lived near the hospital, making trips back and forth would have been extremely stressful and would have made breastfeeding her baby complicated.
"Not only did I have to think about my baby, I had to think about my own health as well," Rebecca recalls thinking at the time. "I needed to rest and recuperate, and with two other kids, ages 4 and 7, at home, it would have been impossible."
So Rebecca was thrilled when she learned that she could "board" overnight at the hospital with her newborn for those three weeks. Boarding turned out to be exactly what Rebecca and her newborn daughter needed.
Overnight boarding, or staying in the hospital as a "guest," rather than as a patient, is offered free of charge to all mothers of newborns staying in the NICU. Upon discharge from the maternity unit, mothers with NICU babies are given the option to board for the duration of the baby's stay, if an extra room is available in the unit. Although the hospital typically does have unused rooms most of the time, mothers are told in advance that, should a room be needed for an incoming patient, the charge nurse will request the room back.
As a boarder, a mom can take full advantage of lactation support services when feeding her baby in the NICU, and she can use the hospital's breast pumps at no charge.
Boarding mothers also receive three complimentary meals a day; however, because they are no longer registered as a patient of the hospital, they cannot receive nursing or medical care.
Because Rebecca was able to stay on as a boarder and could be there to nurse her baby at all times, feeding went smoothly.
"My baby had no problem breastfeeding at all," says Rebecca. "She learned very quickly, having me right there."
Rebecca also credits the entire Los Gatos team for making the experience as positive as it could be.
"The staff was wonderful. The nurses were so responsive to our needs — even though they weren't required to take care of me (as a boarder), they checked in on me often."
Rebecca says the boarding option is an incredible benefit to giving birth at El Camino Hospital Los Gatos, and she is delighted that the hospital continues to offer the service. "It's so valuable to new moms," she notes.
After three weeks at the hospital, Rebecca not only had a chance to bond with her baby, she also bonded with the caregivers as well.
"The nurses at El Camino Hospital are amazing. They truly go above and beyond for the mothers and babies." 
Thanks to their efforts, today her child is happy and healthy and no doubt will have quite a celebration with her family when she reaches her next birthday in May.