Mountain View, CA - November 7, 2014 - El Camino Hospital Foundation received a $1 million gift from Los Altos philanthropists Donna and John Shoemaker for the expansion of El Camino Hospital's mental health services.
The Shoemakers are chairs of the Philanthropy Council for Mental Health, which is steering the Foundation's special initiative to raise funds for El Camino Hospital's pioneering outpatient mental health services and for the construction of a dedicated, 36-bed inpatient facility on the hospital's Mountain View campus. They have been major donors to MOMS, the hospital's specialized, intensive outpatient program for women who experience prenatal and postpartum depression, the only such program on the West Coast.
"Mental health care is a huge need across the county and around the globe but it is extremely underfunded and misunderstood," John Shoemaker observed.
Donna added, "It is not my natural inclination to lead a specific health care cause. I am always grateful, and honestly somewhat relieved, when someone else steps forward to lead. Then we learned about the achievements and proposal for the future of mental health services at El Camino Hospital. We are truly inspired. We knew that this time we wanted to be the 'someone else' to share the message that mental health issues touch so many lives and integrate with all health issues."
According to the National Alliance on Mental Illness, one in four adults experience a mental health disorder and approximately 20% of youth ages 13 to 18 experience a severe disorder in a given year. Yet, approximately 60% of these adults and almost one-half of youths age 8 to 15 received no mental health treatment in the previous year. In fact, here in California, the number of inpatient psychiatric beds has declined 30% over the past 15 years, even as the population has grown by 17%.
El Camino Hospital Foundation's fundraising initiative aims to secure philanthropic support for the new inpatient facility and for specialty outpatient programs for adolescents, seniors, women of childrearing age, and people with addictions. "Donations will enable the hospital to help more patients as it plays a leadership role in the development of a region-wide strategy for addressing the critical shortage of mental health services," explains Jodi Barnard, President of El Camino Hospital Foundation.
It is all about fulfilling the promise -- El Camino Hospital's longstanding commitment to provide health care for mind as well as body and the promise each of us has as an individual," John explains.
The Shoemakers hope their pace-setting gift will focus community attention on the importance of the mental health program to the entire El Camino Hospital enterprise. "By putting our name on this project, we want to show our appreciation for the compassion and ability of each staff member, nurse and physician involved in this work. We know there are many other people who really care about this issue," says Donna. "This is an urgent need, one that affects our community, the people among whom we live. It will affect you in your lifetime."
"We need you to stand up and give," John urges. "We need gifts that might be bigger than to any other cause you have supported. The impact of your gift will last a lifetime."
For more information about Fulfilling the Promise, a special fundraising initiative for mental health services at El Camino Hospital, call 650-940-7154.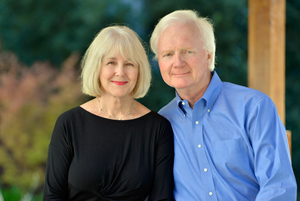 Donna and John Shoemaker