Mountain View, CA - May 2, 2013 - On Saturday, April 27, more than 500 attendees gathered at the renowned Menlo Circus Club to raise more than $350,000 to support the Cancer Center at El Camino Hospital's newly created "A Time to Heal" program, which will provide information, hope, and support through every stage of the cancer journey.
"We are incredibly grateful to the generosity of all of our donors who are helping us create a space to address each cancer patient's mosaic of needs," said Tomi Ryba, president and chief executive officer of El Camino Hospital. "From diagnosis to survivorship and at every stage in between, the Cancer Center offers a wide array of services that otherwise may not be available to patients and it gives us reassurance that when our families and friends have a difficult diagnosis of cancer, they have a place that provides comprehensive, patient-centric care."
The event, which was co-chaired by Sandra and Doug Bergeron and Katie and Greg Morganroth, MD, along with Pamela and Edward Taft as honorary chairs, included a performance by world-renowned musician, Chris Isaak and a live auction. Elizabeth Carr of Atherton was the winner of the five-carat sapphire donated by Darren McClung Estate and Precious Jewelry for the "Sip for a Sapphire" fundraiser. Carolyn Johnson from KGO-TV (ABC) served as the mistress of ceremonies for the evening and Lenny Broberg, from the San Francisco Police Department's gang task force unit served as the volunteer auctioneer.
The evening also featured Dr. Sherry Wren, Governor of the American College of Surgeons, who recognized El Camino Hospital for achieving the college's Committee on Cancer's prestigious Three-Year Accreditation with Commendation for creating a comprehensive cancer program.
"Not only was the accreditation an incredible team effort, but it also underscores the role of philanthropy," said Shyamali Singhal, MD, PhD, medical direction of the Cancer Center at El Camino Hospital. "Every one of the six commendations our program received was for a program that was established with philanthropic support. These gifts make a difference."
Now in its third year, the Sapphire Soirée has raised more than $1.5 million for the Cancer Center at El Camino Hospital. Proceeds from previous years have been used to establish several new programs, including the patient navigation program, which provides cancer patients with an advocate who can help them navigate every aspect of care from education about treatment options to referrals for support services and assistance with insurance and financial issues. Soirée proceeds also helped to establish the High Risk Breast Program, which informs women of their lifetime risk for breast cancer so they and their physicians can devise proactive, personal breast health care plans, and a dedicated Melanoma Program that provides education, screenings, preventative care and early detection of this potentially deadly disease.
---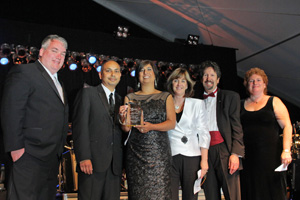 (Left to Right) Dr. Shane Dormady,  Dr. Robert Sinha and Dr. Shyamali Singhal with Tomi Ryba, CEO, John Zoglin, Chairman, Board of Directors and Dr. Sherry Wren, Governor of the American College of Surgeons
---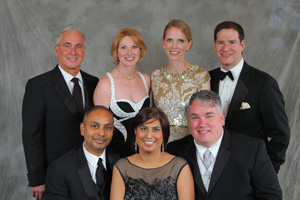 (Top Left ) Co-chairs Doug and Sandra Bergeron with Katie and Greg Morganroth, MD, along with (Lower Left) Dr. Robert Sinha, Dr. Shyamali Singhal and Dr. Shane Dormady
Photos by: www.BayAreaEventPhotography.com
---
About El Camino Hospital
El Camino Hospital is an acute-care, 443-bed, nonprofit and locally governed organization with campuses in Mountain View and Los Gatos, Calif. In addition to state-of-the-art emergency departments, key medical specialties include heart and vascular, cancer care, urology, orthopedic and spine, genomic medicine, and the only Women's Hospital in Northern California. The hospital is recognized as a national leader in the use of health information technology and wireless communications, and has been awarded the Gold Seal of Approval from The Joint Commission as a Primary Stroke Center as well as back-to-back ANCC Magnet Recognitions for Nursing Care.