Mountain View, CA - December 21, 2012 - El Camino Hospital today formally announced that its Heart and Vascular Institute will be renamed the Norma Melchor Heart & Vascular Institute of El Camino Hospital in memory of Norma Melchor, a long-time philanthropist and hospital volunteer. The new name of the institute was unveiled during a special ceremony at El Camino Hospital, which included Norma's husband Jack, her children and grandchildren, and friends from the El Camino Hospital community. The Melchor family recently committed several million dollars to support clinical programs and research of the Heart & Vascular Institute. Together with the family's past gifts, this represents the largest cumulative gift to El Camino Hospital Foundation from any philanthropic source.
"For more than a half a century, Norma, her husband Jack, and their entire family have been committed to ensuring the success of El Camino Hospital," said Tomi Ryba. "We are incredibly grateful for their generosity in time and for the financial contributions they have made to the Heart & Vascular Institute, which will help us ensure that our patients continue to have access to innovative programs, the latest diagnostic tools and a clinical trial program that is helping to identify emerging treatment modalities."
Norma and Jack Melchor have been passionate supporters of El Camino Hospital from the very beginning. Among the first to recognize the need for a local community hospital and to put considerable energy and talent behind it, Norma and Jack devoted themselves to growing the hospital and remained deeply involved for more than half a century.
"My grandparents were always strong advocates for philanthropy and helping others, and I know how much the hospital and the work of the Heart & Vascular Institute meant to my grandmother," said Lane Melchor, Norma's grandson and El Camino Hospital Foundation board member. "She would be honored to see that her legacy is being carried on through this important program."
As a former surgical nurse, Norma joined the El Camino Hospital Auxiliary in 1957 and organized tours of the new hospital when its doors first opened in 1961. She quickly became a leader of the organization, serving as chair of training in 1961, vice president and chair of services in 1962 and president in 1963. Norma also co-chaired the Citizens Committee for the El Camino Hospital District, promoting the second bond issue to build the sixth-floor tower. In 1974 she was elected to the El Camino Hospital District Board of Directors for the first of four terms, serving as president for one.
Over the years, she and husband Jack repeatedly demonstrated exceptional generosity to the hospital. In addition to making a leadership gift to establish the Foundation in 1982, they made significant contributions to every major fundraising campaign. The couple also donated the land upon which Melchor Pavilion now stands and, when their beloved daughter Karen died in 2009, they made another generous gift to name the fountain outside the Mountain View hospital entrance in her memory."
---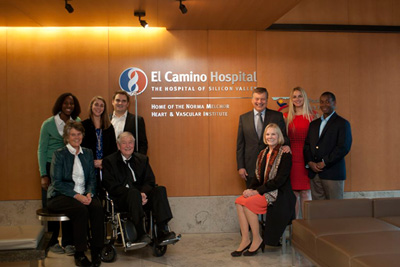 Left side of sign l to r seated: Kay Melchor, Jack Melchor
Left of sign l to r standing: Malea Bieselin, Lindsey and Lane Melchor
Right of sign seated: Alice Melchor
Right of sign l to r standing: Greg Melchor, Liz Melchor, Nate Bieselin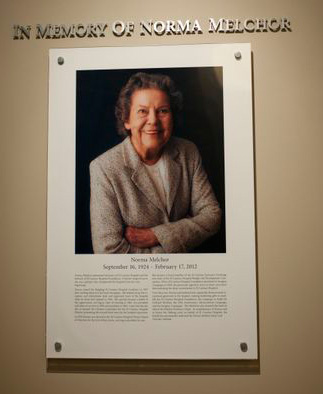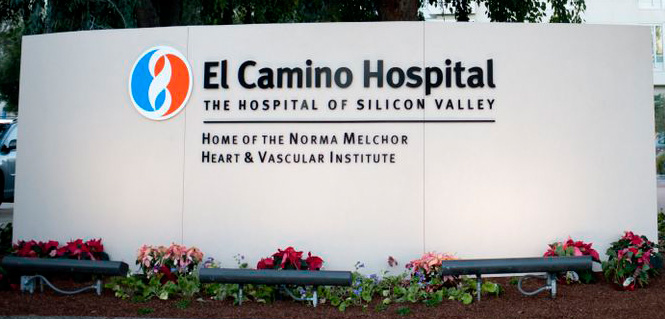 Photos by Wendy K Yalom, Photography