Mountain View, CA - March 10, 2009 - As part of its major growth program, El Camino Hospital introduced its new logo and colors last week on the hospital's newly designed website, in newspaper ads and on new campus signage. The orange and blue "unity" logo, which takes the place of the "E" logo in use for more than 30 years, was first unveiled to staff, volunteers and physicians on Monday, March 2.
"With the exception of a few years in the early 1990's, when the hospital became Camino Healthcare, the "E" logo has been used at El Camino Hospital for more than three decades," says Ken Graham, chief executive officer. "As we began implementing many of the programs in our new strategic plan and as we approached the opening of our new state-of-the-art hospital this fall, we took the opportunity to give ourselves a more contemporary look to better reflect the sophisticated and innovative organization that we have become."
"Caring and compassion are a big part of El Camino Hospital's heritage and reputation, but cutting-edge science and medicine are practiced here every day," Graham continues. "We needed an identity that reflected both the care and the innovation."
The new logo will be used in more than 500 applications, from hospital signage to stationery to hospital equipment, mugs, and USB drives. The changeover from the old logo to the new will take place over the next several months, and be more than 90% complete by the time the new hospital opens in the fall.
To test potential designs for the logo, the hospital conducted an online survey of more than 1000 physicians, staff, patients, and people from the Silicon Valley community. The final selection turned out to be the overwhelming favorite.
The new logo's design contains multiple elements that can be characterized as: a unity of caring (orange) and innovation (blue), a flame of knowledge, a stylized caduceus, and/or a DNA double helix molecule.
"One survey respondent expressed it very well," Graham says. "It's like a new coat for an old friend."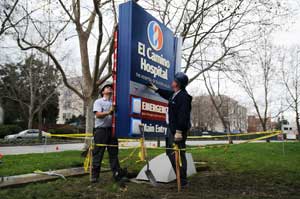 Photo ID: Sonny Torres (l.) and Vince d'Amico (r.) from the hospital's facilities services department, assist in installation of new sign at corner of Grant Road and North Drive. In the background is the new hospital building, scheduled to open this fall.
---
For more information contact: Judy Twitchell Communications Manager, El Camino Hospital 650-988-7767