Mountain View, CA - June 27, 2013 - This month, the Women's Hospital at El Camino Hospital – the first women's hospital in Northern California - will celebrate 20 years at its current location in Orchard Pavilion on the hospital's campus. Over the last two decades, the hospital has evolved beyond its traditional obstetrics and gynecology offerings to more comprehensive services that address all aspects of women's health.
"For 20 years, Orchard Pavilion has served as an important place for women at life changing moments and it will continue to do so for decades to come," said Michele van Zuiden, executive director, Women's Health at El Camino Hospital. "As the needs of the women in our community continue to grow, we are well-positioned with leading experts and services that will provide a broader array of health services to help women at every stage of their lives, including cardiovascular care, breast and pelvic health, mental health and bone health."
Of particular note is the Women's Hospital's state-of-the-art birthing facility, which is consistently recognized as the "Best Place to Have a Baby" by Bay Area Parent magazine. Over the past 20 years, the Women's Hospital delivered more than 170,000 babies, and the greatest number of deliveries ever in a given day was 23.
Additionally, the Neonatal Intensive Care Unit (NICU) is uniquely equipped with cutting-edge medical technology to provide specialized care for premature and critically ill newborn infants.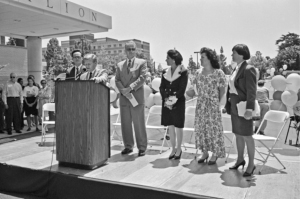 Opening Day: In 1993, El Camino Hospital opening the Women's Hospital at El Camino Hospital, then known as Maternal Child Health. From L-R: George Ting, MD, Dick Pettingill, CEO (at podium), Doug Usher, Board member, Anna Eschoo, Tammy the first baby born at El Camino Hospital, Board member Diana Adair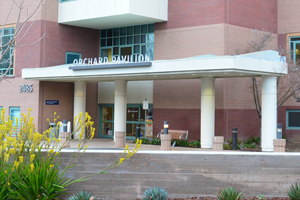 20 Years and Going Strong: The Women's Hospital at El Camino Hospital today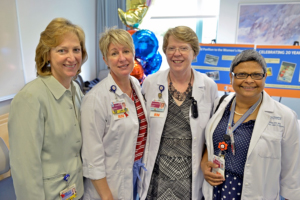 The Women's Hospital at El Camino Hospital management team celebrate the facility's 20th anniversary on June 25, 2013. From L to R: Michele Van Zuiden, director, Jodie Charles, NICU manager, Kim Foresberg, Maternity Unit manager, Indira MacKay, Labor & Delivery Unit manager