As Ashley holds her son Theodore, his eyes are full of wonderment and awe.
"It's so cool to see, everything is a first for him," said Ashley. "Everything is a new experience."
Eight months after giving birth to her first child, everything is new for Ashley too. Like many new moms, she's tired, but happy, and with big smiles and a full heart, she is adjusting well to motherhood.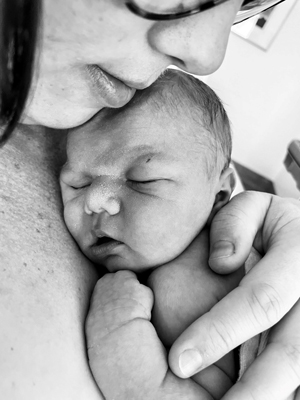 Ashley's journey to motherhood was carefully planned. In fact, three weeks before becoming pregnant with Theodore, Ashley and her husband attended the midwives tea and orientation to meet El Camino Health's team of certified nurse-midwives and learn about the services they offer.
"I felt a calming and inviting energy with them," she recalled. "I could just be friends with them and feel comfortable from the get go. I felt like these ladies were going to take care of me from the very beginning. They're already doing everything that I am wanting, and we didn't need to look anywhere else."
El Camino Health's nurse-midwives are all registered nurses who graduated from the nurse-midwifery education program accredited by the Accreditation Commission for Midwifery Education. They all have passed a national certification exam that meets strict requirements from state and national health agencies. Nurse-midwives are trained to facilitate safe, natural birthing techniques, which was important to Ashley.
Skip
"My mantra throughout my pregnancy was—my body is built for birth," said Ashley. "As long as I listen to my body, I knew I would be okay, and I knew the midwives would listen and respect my wishes."
At Ashley's first appointment, Lin Lee, RN, CNM, went over everything to expect during her pregnancy and what appointments will look like. Over the course of Ashley's pregnancy the midwives helped her develop a birth plan that honored her wishes, which doing stretches to prepare for labor, going for a walk, laboring at home, delayed umbilical cord clamping, and more skin-to-skin time with her newborn.
"The birth of your baby is a deeply personal experience," said Lee. "When you partner with us on your pregnancy journey, we will work together to develop a safe birth plan and guide you through every step of the pregnancy, including any challenges that may arise."
Ashley had a very healthy pregnancy, and stayed active doing yoga as she prepared to welcome her son, but at about 35-weeks, her feet began swelling suddenly at a family Halloween party. When Ashley went to her 35-week appointment the next day, her blood pressure spiked. She had preeclampsia, which causes a sudden rise in blood pressure during pregnancy that could lead to clotting issues and affect vital organs.
"We knew from the beginning that this could be a risk, because my sister had it as well," said Ashley. "When I returned for a follow up appointment the next day, we checked my blood pressure, and it was even higher, so I was admitted to the hospital."
Kavita Noble, CNM, RN, MSN, WHNP and Melina Rapazzini, CNM joined Ashley at El Camino Health's Los Gatos Hospital. They stayed with Ashley and provided her with recommendations as they monitored her blood pressure.
"They were so sweet and never made me feel scared, despite the situation," said Ashley. "They always reminded me that I had options, but also provided good reasons to follow their recommendations. I felt safe every step of the way."
After a few days in the hospital, Ashley had to be induced. She had to let go of her vision of laboring at home, but with Melina leading Ashley through her labor and delivery, Ashley felt reassured.
"I wasn't afraid, because I knew she was going to do what was best for me and take her time with me," she recalled.
Ashley welcomed Theodore on November 3 at 36-weeks and one day.
"The delivery itself was beautiful, my baby stayed with me for a full hour, and he breastfed right way," said Ashley. "Even though the birth didn't go the way I imagined leading up to the delivery, at the end of the day, everything I wanted at the end happened and I felt cared for and respected as an individual person every step of the way."
As Ashley and Theodore prepared to be discharged from the hospital, Theodore passed all of his tests quickly. He is a happy baby boy, who is currently ahead in his milestones, and loves hearing his dad sing.
"Theodore is the most incredible, beautiful baby, I could have ever dreamed of, he's such a champ," said Ashley.