Among one of the first hospitals in the nation to see COVID-19 patients, El Camino Health and the Taft Center for Clinical Research has been among the leaders in COVID-19 clinical trials, working with pharmaceutical companies to find solutions to help manage and cure the deadly pandemic.
"One doesn't normally think of a community hospital as a leader in research," said Ryan Schroeder of the Taft Center for Clinical Research. "El Camino Health has a history of challenging this way of thinking however, and is well-positioned to participate in meaningful research because we see a wide range of patients who are representative of the population as a whole, compared to the typical academic medical center. We also have engaged and talented staff, physician leaders and a strong research culture."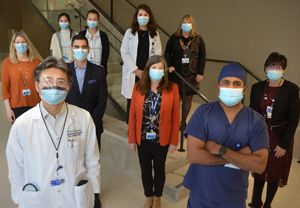 El Camino Health first launched a COVID-19 treatment study in March 2020 with pharmaceutical company Gilead in clinical trials with Remdesivir, the first anti-viral medication to receive approval from the Food and Drug Administration. That study yielded useful information and Daniel Shin, MD, an infectious disease specialist, worked and shared results with the scientific community in the New England Journal of Medicine.
Another physician and research leader at ECH, Ganesh Krishna, MD, an interventional pulmonologist, is serving as the lead investigator in a Pfizer COVID-19 treatment study. El Camino Health's research team was the first — in the world — to treat a patient in the Pfizer study. All totaled, El Camino Health has or is participating in seven COVID-19 related studies, with another slated to launch in the coming weeks.
Members of the Research team have worked closely with El Camino Health's critical care nurses caring for COVID-19 patients. This collaboration and coordination has been, and will continue to be vital to the hospital's efforts.
Ryan noted while the entire team has worked tirelessly to support more than 50 clinical trials in our portfolio, while also bringing investigational treatments to patients and physicians affected by COVID-19, Clinical Research Coordinator Karen Ng and Clinical Research Program Lead Michelle Backer have been most closely involved with the COVID-19 trials, working with drug companies, patients, physicians, El Camino Health's clinical units and nursing teams. He added that Mojgan Nodoushani, manager, Clinical Pharmacy, has been instrumental in helping manage complex drug storage and dispensing protocols, and Kelly Abbott, lead, Clinical Laboratory Services has worked side-by-side with the research team to process and ship biological samples collected from research patients.
"Participating in research and clinical trials has really been a 'triple-win' for El Camino Health," said Ryan. "Our physicians stay on the leading edge of care, the hospital contributes locally and globally to medical advancements, and our patients gain access to innovative and alternative treatments. El Camino Health's outcomes are some of the best in the country and our service lines have expanded as a result of our long-standing commitment to research. I am so proud of our entire team who have worked tirelessly and at warp speed to bring important investigational treatments to our patients and clinicians."