Ted is a lifelong San Francisco 49ers fan, so when the 49ers took on the Green Bay Packers on September 26, 2021, he was at Levi's Stadium in Santa Clara with his brother and their closest friends.
"In retrospect, I was not feeling well at all that day, I had trouble getting out of my seat after the game," he recalled.
After the game, Ted and his group made their way to the parking lot, disappointed that the 49ers lost. As they approached the car, Ted fell face down in the dirt parking lot, stopped breathing, and lost consciousness. Ted's brother panicked and kept trying to wake him up.
"We took a different path to get to our car that day, and it turned out that two off-duty sheriff's deputies and an off-duty nurse were behind us," said Ted. "They stepped in right away to help before paramedics took over."
Ted suffered from cardiac arrest. Paramedics shocked him with an automated external defibrillator four times and rushed him to El Camino Health's hospital in Mountain View. He briefly regained consciousness, but his heart stopped a second time at the hospital.
"I was told at one point, I had a less than 2% chance of survival," said Ted. "But my cardiologist was phenomenal, she saw something in me and thought I had a chance."
Dr. Ajanta De is a cardiologist with the El Camino Health Medical Network. She specializes in interventional cardiology and cardiovascular disease.
"My philosophy is to take a humanistic approach to each individual patient, everybody needs something different, and that was the case with Ted," said Dr. De, "I believed he had a chance of surviving because he was relatively young and aside from his heart, he was in good shape, so we decided to move forward with surgery."
Ted had an emergency coronary angiogram showing several critical blockages in his heart arteries. Ted then required emergency coronary artery bypass surgery (CABG) to reroute blood flow to his heart muscle.
"When a patient has cardiac arrest we don't know who's going to pull through and who will have sustained too little oxygen to the brain during the event. Sometimes, we have to wait days until we know," said Dr. De. "Ted not only came out of surgery without complication, he persevered. It is a real testament to his will to survive and move forward."
After surgery, Ted had to relearn how to breathe, eat, talk, get out of bed unassisted, and walk. From the day he was admitted to the day he was discharged, he spent 100 days at the hospital.
"The nurses were unbelievable, not just to me, but also my wife and family," he reflected. "I truly believe that without them and Dr. De, I would not have survived."
As Ted focused on recovering, the nurses were planning a special reunion with the first responders that also helped save his life. On New Year's Eve, he received a visit from Fire Captain Keith Jyung and Fire Captain Nick Restani from the City of Santa Clara.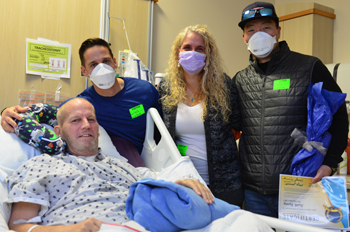 "It was very special to be part of that, we got into this to help people and it's not often that we get an opportunity to see the impact of our hard work," said Nick, "the cardiac arrest happened in one of the parking lots farthest away from the stadium, so it was somewhat remote and we just happened to be close by."
"They were among my first angels," said Ted, "it was great to have the opportunity to visit with them, they invited me and my family to the firehouse for dinner and we plan to do that this summer once my kids are out of school."
During his stay at the hospital, Ted kept a photo of his four children near his bedside. On the tough days, he would look at their photo as a reminder to keep going.
"My children are ages 38, 23, 14, and 12, and in those 100 days, I got to see my two youngest ones twice," he said. "All I wanted to do was to hug my kids and talk to them face to face, I fought hard to get better, so I can keep raising them."
On January 4, 2022, Ted was finally discharged from the hospital. Within a week, he was able to walk by himself. He can now drive, cook, and attend his medical appointments on his own.
"I gained a new perspective on life after cardiac arrest," said Ted, "I'm calmer than I used to be, I quit drinking, and I realized after living an active lifestyle for most of my life, I needed to get back to exercising on a regular basis."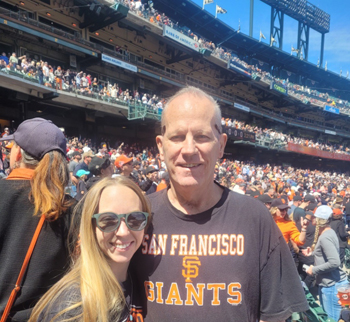 As he continues to progress toward making a full recovery, Ted also took a moment to watch a playback of the 49ers vs. Packers game.
"It was therapeutic to watch the game from start to finish, there were so many plays and other things I didn't remember," said Ted. "I watched the entire game on silent as I reflected on everything that's happened the last few months, and it felt like closing a chapter of a book."
Ted turned the page and began the next chapter when he cheered on the Giants at the home opener with his friends on April 8. He also attended playoff games for the Golden State Warriors.