During the pandemic, clinical staff must wear additional protective equipment as a barrier against COVID-19. Being a patient in a hospital during a pandemic can be a stressful experience for patients, and anxiety can increase even more when patients cannot see the faces of the people who are treating them.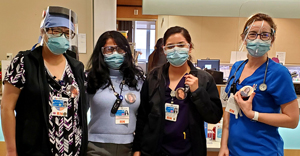 To help El Camino Health staff better connect with patients, a program was launched earlier this year to create photo buttons for clinical staff. El Camino Health staff are wearing the buttons in a prominent position so they are visible to patients.
"Photo buttons are an easy way to help build connections with patients and families," said Chief Experience Officer and Executive Director Christine Cunningham. "The buttons help illustrate that we care and seeing smiling faces helps humanize a patient's experience at the hospital."
To date the Patient Experience team has created almost 200 staff buttons, and more are on the way. "We are able to create them quickly and easily in-house, but they go a long way in showing the patient the person behind the protective gear, and establishing a connection." If you work at El Camino Health and are interested in receiving a photo button, e-mail your photo to wecare@elcaminohealth.org.