Situated in Silicon Valley, El Camino Health, like any high quality healthcare organization, uses technology and data to improve the care they deliver to patients. Making that data available to a wide range of healthcare professionals is one of the challenges for Robert Henehan, manager, Information Systems Reporting and Business Intelligence, and his team.
"We have healthcare professionals working at every level of the organization, including clinicians, leaders, executives, along with staff involved with planning and operations," said Robert. "One of our major goals is to focus on providing self-service tools that will allow employees to find what is valuable to them within datasets, and to use the data to help them provide the best care possible."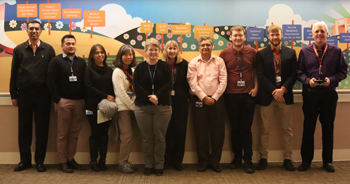 The need for up-to-date data never became more apparent than when the COVID-19 pandemic first arrived in Northern California in late February. Like the rest of the world, operations staff and healthcare providers at El Camino Health were planning and reacting as the situation changed, often in unexpected ways. The Information Systems Reporting and Business Intelligence team saw a need to develop reports for various staff built on data from the COVID-19 patients. It was also their responsibility to create data submissions for the myriad of regulatory agencies that had constantly changing requirements.
"The volume of data we had on COVID-19 patients continued to evolve as the number of COVID-19 patients we were seeing changed," said Robert. "The initial reports we put together helped visualize, at a glance, the situation and we discovered that leaders in the organization found the information valuable, creating a growing appetite for analytical tools."
The initial reports included basic information like the number of COVID-19 patients at El Camino Health, the trends of lab results of patients suspected of having COVID-19, and total hospital census. Tools ranged from providing up-to-the-minute tracking of patients and their status to trending patient demographics and outcomes. Like the COVID-19 crisis, the reports have changed depending on the type of information needed.
"I would like to recognize my team of report writers and business intelligence engineers for all the work they have done, and continue to do, in providing reports, datasets, and dashboards for COVID-19," said Robert. "They have all contributed to creating the analytics solutions and have worked on them in addition to their other deliverables. We are of course happy to help in any way we can. We are not the heroes but do whatever we can to support those who are."