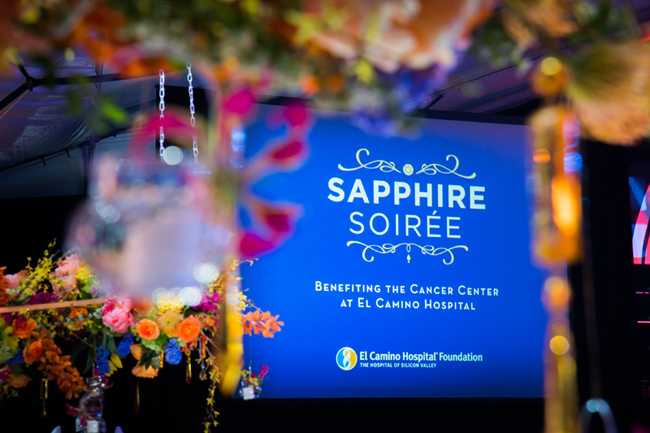 May 26, 2016 - On Saturday, May 21, 2016, nearly 500 physicians, community leaders, and hospital supporters gathered at the Menlo Circus Club in Atherton to "Sip for a Sapphire," vie for live auction items, dance to the high-octane music of The B-52s, and contribute more than $520,000 to provide ongoing support for the patient-centered programs at El Camino Hospital's Cancer Center.
"Silicon Valley takes on the toughest challenges - because we can," El Camino Hospital CEO Tomi Ryba told the crowd. "We are 21st century makers. We expect cures. We expect to expand the quality of life. That is what we do at El Camino Hospital."
The event was chaired by El Camino Hospital Foundation board member Michele Kirsch and Nahid Aliniazee. Lenny Broberg of the San Francisco Police Department's gang task force served as auctioneer and presided over exciting bidding wars for several items, including an American Music Awards package, a private dinner with Cancer Center doctors and the hospital CEO, a custom decorated electric guitar autographed by The B-52s, and a 3.13 carat color change sapphire and diamond celebration ring donated by Darren McClung Estate & Precious Jewelry. Yesi Lechuga and Gohan Jain, who were featured in a video that highlighted the Cancer Center's focus on helping each patient achieve their dreams for the future, received a standing ovation for their courage. Honorary chairs Pamela and Edward Taft announced a $250,000 gift to the Cancer Center in memory of philanthropists Norma and Jack Melchor, who were remembered during a moving tribute. Inspired by the couple's legacy of generosity to El Camino Hospital, the audience more than matched the Tafts' gift during the fund-in-need appeal. A stunned and excited Mariette Wharton won the "Sip for a Sapphire" pendant, also donated by the McClungs.
"What I really want to thank you for is your empathy," Cancer Center Medical Director Shyamali Singhal, MD, PhD, told the audience, after listing some of the programs that were directly supported by philanthropy: nurse navigation, palliative care and survivorship, the Pamela and Edward Taft Healing Space, and emergency funds for patients with critical needs. "Our future is bright. We are reducing the risk of developing cancer, detecting it sooner, and treating it more effectively. I thank all of you for continuing to be part of the solution."
Now in its sixth year, Sapphire Soirée has raised $3 million for the Cancer Center at El Camino Hospital. Proceeds from previous years launched the nurse navigation program and complementary healing programs housed in the Taft Healing Space, as well as outreach programs in high risk breast cancer and melanoma, and a dedicated Cancer Prevention and Early Detection Program. Proceeds this year will grow and sustain these patient-centered programs with emphasis on more formally addressing the psychological distress cancer causes patients and family members; implementing research initiatives that advance cancer prevention and early detection; education and research efforts directed at keeping our community cancer healthy; direct, compassionate hospice and palliative care sensitive to each patient's goals; and financial assistance for patients in need and overwhelmed by their health care costs.