In her 73 years, Donna — a motivational speaker and author — has survived childhood malnutrition, a plane crash, stage III melanoma and open-heart surgery, so she isn't one to back down in defeat. When she found out she needed aortic valve replacement, she was determined to get the best treatment possible.
Her aortic valve had already been repaired once before, in open-heart surgery 14 years earlier. Now, cold hands and feet and slight fatigue sent off warning bells. A standard echocardiogram revealed the problem. This time, the valve would need to be replaced.
"I did my research and knew where the most cutting-edge hospitals were; that's how I found El Camino Health. I wanted to know I was having the absolute best treatment," Donna said.
Although the El Camino Health Mountain View hospital was about four and a half hours away from her home in Tahoe, she decided it was worth the drive to have the team she'd picked.
After meeting with her doctors, she learned that there were two options available: another open-heart surgery or something newer and less invasive called transcatheter aortic valve replacement (TAVR).
TAVR requires only a small incision in the upper thigh or chest area to thread a catheter to the heart and repair or replace the aortic valve. The procedure itself can take less than an hour, but preparation and recovery can take three or four hours. Together, she and her doctors decided the TAVR procedure was the way to go.
El Camino Health: A TAVR Pioneer
El Camino Health was an early pioneer of this technology and the first in California and the Bay Area to receive the American College of Cardiology's Transcatheter Valve Center of Excellence certification.
Donna went in for her surgery in mid-July 2020. Despite the constraints of COVID-19, she felt well cared for and comfortable with all the extra precautions taken in the hospital. As is standard, her care team wore full personal protection equipment, and Donna was required to take a rapid COVID-19 test the morning of the big day.
"I'm a positive person, but the idea of heart surgery was still very scary for me, especially going in alone without any family members," she says.
But, she says, she never really felt alone.
"The most important thing was that, right before surgery, everyone came into that small room – the entire care team – and they all introduced themselves to me," she said. "They all had such energy, love and professionalism. That's the moment I knew I was going to live. I looked around and I knew I was going to be OK."
Quick Recovery and Back to Life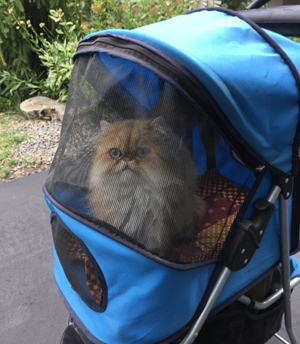 Donna was released from the hospital 28 hours after her short procedure and was back to completing her daily walks just two days later — compared to her previous open-heart surgery, which required a six-day hospital stay and months to regain her strength.
Today, Donna is back to regularly walking (while pushing her beloved pet cat in a stroller). She's enjoying online Jazzercise classes and has noticed she has more energy. She even managed to squeeze in 25 days of downhill and cross-country skiing in the winter after her procedure. Her team at El Camino Health provided not only the technical skill and technology to treat her condition, but support, guidance and compassion needed to get her life back.
"When my throat hurt, they gave me a popsicle; when my back hurt, they gave me a heated blanket," she said. "They were always right there every time I rang the buzzer. It was phenomenal."