Chief Financial Officer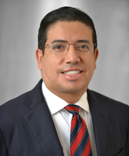 Carlos Bohorquez joined El Camino Health in September 2020 as chief financial officer and has more than 20 years of healthcare finance and managed care contracting experience. Throughout the COVID-19 pandemic, Carlos led the implementation of several revenue enhancement and expense management initiatives, which helped mitigate the impact of various waves.
Before joining El Camino Health, Carlos served as chief financial officer of Palomar Health in San Diego, CA, where he developed and successful implemented a financial turn-around plan. He also held senior leadership consulting positions at GE Healthcare, Kaufman Hall & Associates and Ernst & Young. Over the years, Carlos has advised more than 300 hospitals and health systems across the country in the areas of financial and capital planning, mergers and acquisitions, financial turn-around, managed care negotiations and tax-exempt debt transactions.
In addition to the Hispanic Foundation of Silicon Valley, Carlos currently serves on the board for Pathways Home Health and Hospice. He previously served as chair of Measure M's Independent Taxpayer Oversight Committee for Los Angeles Metro, which is expected to deploy more than $60 billion of capital over the next 25 years to improve transportation infrastructure in Los Angeles County.
Carlos has a master's in health administration (MHA) from the University of Southern California, where he graduated with honors, and a BS in neuroscience from University of California, Los Angeles. He recently completed the advanced finance and leadership program at The Wharton School, and participated in Harvard Business School's executive leadership program where he attended the value based transformation in healthcare program.