Chief Legal Officer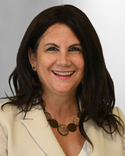 Theresa Fuentes is the chief legal officer (CLO) at El Camino Health. As CLO, Fuentes is responsible for all legal matters associated with El Camino Health and the El Camino Healthcare District, and provides legal advice, guidance and support to the hospital, district, chief executive officer, hospital board, the district board and senior leadership.
Prior to joining El Camino Health, Theresa worked in the Office of the County Counsel for the County of Santa Clara where she served as lead attorney and manager for the county counsel's health and hospitals team since 2006. During her tenure, Fuentes also served as a trusted advisor to Santa Clara Valley Healthcare leadership, the County of Santa Clara Health System, the county executive and the board of supervisors, and the Santa Clara Valley Healthcare medical staff. Prior to joining the County of Santa Clara, Fuentes was an associate attorney at Cooley LLP in San Francisco for six years, and a law clerk to the Honorable Joyce Hens Green, United States District Court for the District of Columbia.
Theresa earned a juris doctor degree with high honors from George Washington University Law School, and a bachelor's degree in business administration (summa cum laude) from Rider University.