Author and screenwriter Delia Ephron was the featured speaker at El Camino Hospital Foundation's 3rd annual Norma's Literary Luncheon on February 5, 2015. The memorial tribute to Norma Melchor, a steadfast and generous supporter of El Camino Hospital for more than 50 years, raised over $75,000 to support women's mental health services.
Ephron spoke with humor and pathos on the topic of change, reflecting on the impact of childhood experiences on later life decisions. "When raised in a chaotic family, change is much harder," she explained. "You carry those insecurities and worries into adulthood."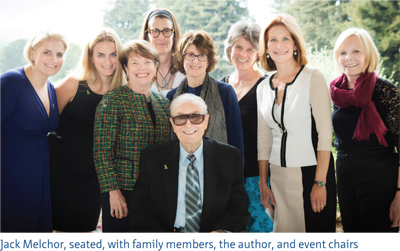 Her remarks underscored the importance of El Camino Hospital's planned expansion of women's mental health services, which includes designing a dedicated 9-bed women's inpatient unit, developing a specialized treatment program for women of child-rearing age who have experienced abuse or other trauma, and continued growth of the hospital's pioneering MOMS program for women who experience serious prenatal and postpartum depression. "By providing effective treatment and connections to other support services, we can help women in our community create a better future for themselves and their children," CEO Tomi Ryba told the attendees.
Jack Melchor, seated, with family members, the author, and event chairs One hundred eighty guests attended the event, which was underwritten by a gift from Norma's husband, Jack Melchor and organized by chairs Judie Wolken and Betsy Dawes. Planning is already underway for the 4th annual literary luncheon, which will be held on February 4, 2016 at Sharon Heights Golf & Country Club. Mireille Guiliano, author of French Women Don't Get Facelifts, will be the featured speaker.
"The times I regret most are the times I wasn't brave," Ephron concluded. "Sometimes you have to sit in the cage with the lion and sometimes you have to roar." It was inspirational advice for the audience, women determined to better the lives of women in our community.