Craig enjoys staying active playing racquetball, cycling, and hiking, but in 2020 he started feeling sharp pains in both of his knees during his weekly hikes, and decided to see a doctor.
"I had surgery on both knees about 20-years ago, and that helped stabilize things for a while, but I was hiking a lot, and my knees started to fall apart due to wear and tear," said Craig. "When I went to see my doctor, I was told there was no more good stuff in my knees, it was bone on bone."
The cartilage in both of Craig's knees wore down, and he was diagnosed with osteoarthritis. He started hiking less and cycling more, but still ran into knee issues. Craig also had viscosupplementation, a procedure where hyaluronic acid is injected into the knee joint as a lubricant to help bones move smoothly over each other, but the relief was only temporary and Craig needed surgery.
Skip
"I was 67 years old, and we were looking at a double knee replacement if I was going to have any chance of continuing any of the activities I enjoyed," said Craig.
Craig was referred to Dr. Akira Yamamoto, an orthopedic surgeon on staff at El Camino Health, who specializes in orthopedic trauma and total joint replacements.
"Craig was a great candidate for surgery, I felt confident that he would respond well to the Mako robotic-arm assisted total knee replacement," said Dr. Yamamoto. "Some patients are concerned with age as well as activity levels appropriate for a total knee replacement, but the average age of a patient is 65. The patients we see are getting younger, but the expected activity level is also increasing, especially when combined with the robotic components of surgery."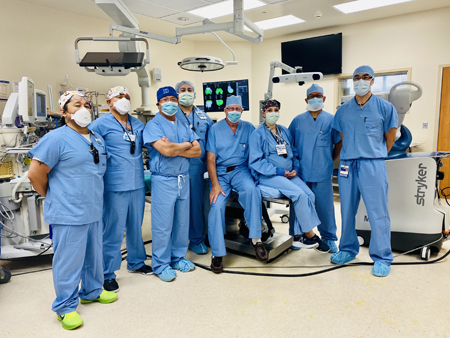 Craig had surgery on his right knee in January 2022 and his left knee in March 2022, right after El Camino Health's Mountain View campus marked its 1000th surgery milestone with the Mako system.
During the procedure, Dr. Yamamoto made a small incision on Craig's knee to expose the joint. After examining how Craig's knee joint moves and the tension in his ligaments using the Mako robotic software, this intraoperative data is combined with information from Craig's pre-surgical CT scan. Using this information, Dr. Yamamoto can plan exactly how to cut the bone, align the joints precisely, and balance the ligaments. The robotic component allows for more precision and more surgeon control.
"With the Mako procedure, there is less trauma for the patient, a more accurate procedure, and a more predictable outcome," said Dr. Yamamoto. "The recovery process is generally faster, which now allows us to send our patients home the same day of the surgery."
Craig's first surgery was a success, he recovered well, and physical therapy was easy for him. Given similar condition to both knees, Craig felt confident as he prepared for surgery on his left knee, but was warned that each surgery is different.
"The second surgery was more challenging than the first, but I've managed to make steady progress with my recovery throughout rehab," said Craig.
After months of putting in the work to rehabilitate his left knee, Craig is now back on the trail hiking and biking again, and he is thankful to his care team for helping him reach his goals.
"I've been an El Camino Health patient for a long time. My father was a physician here many years ago when the hospital first opened, and my brother was born at the Old Main Hospital," said Craig. "I'm always impressed by how organized and efficient things are, and the care I've received throughout the years."