This latest development project is part of the overall "Master Plan" for the campus. During this project, which will begin in July 2016 and continue through 2019, there will be a temporary loss of on-campus parking.

The following parking areas of the campus will be closed:
Lot E   – Patient & Visitor spaces behind the Old Main Hospital
Lot L  –  Surface parking spaces behind the North Drive Parking Garage
Limited Street Parking – South Drive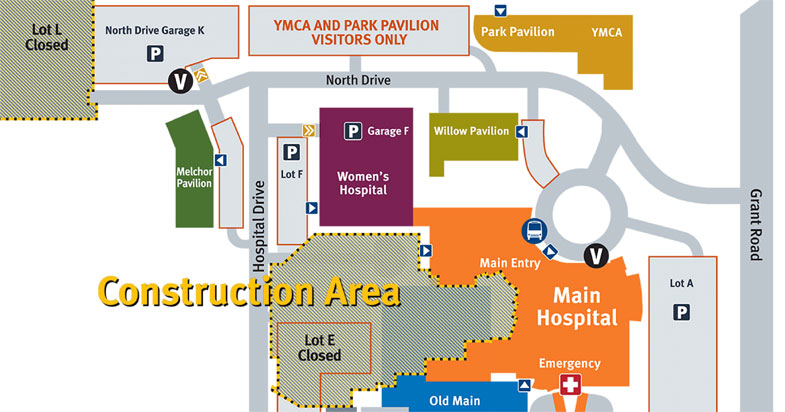 Free valet services are provided for patients and visitors at the following locations:
Front of the New Main Hospital
The Old Main Hospital entrance near the Emergency Department (off South Drive)
Front of Oak Pavilion
The entrance to the North Drive Parking Garage 

To mitigate the loss of parking during construction, more valets will be stationed at the existing valet stand locations, while additional valet stand locations may be added as needed during construction. 
 
What you can do:
Leave plenty of time for commuting to campus and plan potential parking delays.
Be alert to all traffic – watch for other vehicles, bicyclists and pedestrians, especially during inclement weather.  Do not drive distracted or rushed.  

This disruption is temporary. Upon completion, there will be approximately 610 additional parking spaces on the Mountain View campus. We appreciate your understanding in this matter.