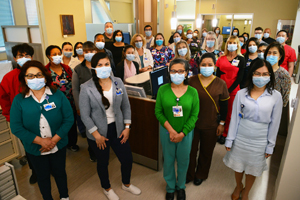 Immunosuppressed patients fighting cancer and other diseases have little choice whether to continue lifesaving treatment, making COVID-19 one more obstacle to overcome. In preparation for caring for these compromised patients during the pandemic, the cancer care team worked together to find solutions to help patients and staff practice social distancing while still doing blood work, scans and providing radiation therapy and infusions.
"I love this field because you really walk through the disease process with the patient," shares Hannah Crocker, infusion nurse. "They become like a family member and the support and the continuity of caring for them is so important. Your skillset matters, but the psychosocial aspect is what really makes the difference. Our biggest challenge is that we can't hug our patients!"
In an effort to reduce the number of patients visiting and their time spent in the Cancer Center, the team condensed a two-day process involving a consultation and then treatment into one day. They created separate waiting areas, limited guests accompanying a patient and moved classes, such as yoga and Qigong, online. Virtual visits and phone calls also helped to address concerns about coming in for treatment.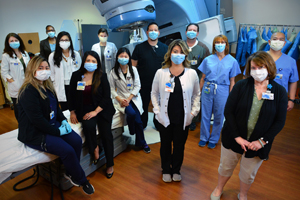 "Every patient, visitor and staff member wears a mask now," said Katie Kuhl, nurse practitioner. "I might be smiling, but the patient can't see that, nor can they read my facial expressions. That nonverbal communication is so impactful when you are talking about sensitive topics. So is the human touch, and we are all missing that close connection with our patients because we can't comfort them in the same way. We didn't realize we would miss it as much as we are."
However, one benefit of the new procedures was somewhat unexpected. Cancer patients regularly deal with the necessary sterilization of their surroundings, the isolation and the diligence it takes to stay safe throughout treatment. With this virus, everyone is in the same situation— wearing a mask, constantly cleaning, washing their hands, and taking precautions to keep everyone safe.
"With COVID-19, we now understand a part of their life that we didn't before," adds Hannah. "This is the way our patients have to live and now we know what it feels like to maintain that level of vigilance every day."
Stressing to patients that their cancer was a more dangerous adversary than the coronavirus helped ensure patients didn't interfere with their treatments based on fear of the virus. Screening procedures were put in place for those needing to come in for care. Patients were called the night before their treatments to ask how they were feeling and then had their temperatures taken upon arrival. Every precaution was taken to keep patient and staff safe during treatment.
"We learn about the patients' lives and what makes it worthwhile for them to get treatment," says Jeff Hunt, radiation therapist. "You might think patients would be reluctant to get treatment during this pandemic, but many say it is the highlight of their day. I think it is because we are focused just on them and it is comforting. We form a relationship built on trust."
Setting aside personal fears about COVID-19 may have made it more challenging to provide comfort to patients during what is likely the most difficult time of their lives, but it also seems to have deepened the bond between patient and caregiver.
"Every staff member has been handpicked for their commitment and compassion for taking care of patients with cancer," says Shane Dormady, MD, oncology medical director. "They are the most patient and loving team when there isn't a pandemic, and during this time, the staff also showed they are the most courageous, hardworking and competent team I have ever seen. I couldn't admire them more and I would characterize their bravery as heroic."