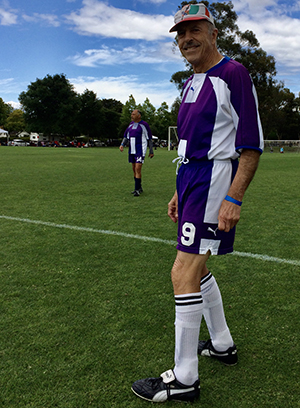 In early 2019, Agostino and his wife Gayle received the shocking diagnosis that he had leukemia, and without treatment, only three to six months to live. Now 86 years old and in remission for the second time, Agostino is ready to rejoin his teammates on the soccer field.
"It was incredible, probably the coldest shower I have ever had," shares Agostino. "I had practically no symptoms at all aside from decreasing endurance, but I took for granted that it was just the natural process of getting older."
From day one of diagnosis, Agostino and Gayle decided that they were going to make his cancer journey a positive one. They surrounded themselves only with people who supported and uplifted them and removed any negativity from their life.
"Agostino is very private and didn't want people to know, but I knew that we were going to need the support," shares Gayle. "We needed to ensure his best quality of life with a great sense of humor… which goes a long way!"
Prior to his diagnosis, Agostino needed to establish care with a new primary care physician, which involved routine blood work. The doctor called with the results and suggested he schedule an appointment with an oncologist at El Camino Health's Cancer Center.
"Dr. Shiva Singhal was new to the group at the time and Agostino was her first patient," says Gayle. "It was the first of many moments that were unbelievable and memorable. She was so compassionate and genuine. Even though as a former nurse I recognized the importance of second opinions, I knew we didn't need one. Our lives were completely in her hands."
"We feel we have become close friends with Dr. Singhal throughout this," adds Agostino.
Gayle spent nearly 28 years as a registered nurse at El Camino Health. She started as a candy striper, continued working through her graduate work and refers to the hospital as her second home.
"I liked El Camino Health so much in terms of its management, quality of care and opportunities it afforded me," says Gayle. "I never felt the need to work anywhere else."
Gayle adds that her professional experience and knowledge of the hospital really helped them navigate Agostino's treatments and cancer journey.
"It was a wonderful thing being able to help Agostino and explain some of the terminology," shares Gayle. "But as a wife and a best friend, it was a very emotional thing and was very difficult. I have to say that his strength gave me the strength to move forward as we needed to."
Agostino was successful with chemo for his first diagnosis and went into remission for several months. He even had the opportunity to spend a month in Peru visiting family in December 2019. However, in early 2020, test results showed that his cancer had returned. Since Agostino had responded so positively to his initial treatment plan, Dr. Singhal felt he could handle a more aggressive treatment plan this time. With the complication of the concurrent pandemic, Agostino's situation was risky but manageable because the additional safety precautions applied to everyone.
The new program was stronger, but instead of seven consecutive days of infusions, it was only five days, and the infusions were accompanied with a chemotherapy drug. Due to Agostino's age, there was concern as to how he would handle the new medication.
"Dr. Singhal had discussed the pill the first time around, but one of the side effects is extreme fatigue," says Agostino. "At the time, I was still playing soccer three times a week and we didn't want to interfere with my playing. It's four big pills every day. I don't know what to tell you, but I handled it better than everything else."
"He is doing beautifully and has gone into total remission in just six weeks," adds Gayle.
The couple is very grateful to the entire team at El Camino Health and speaks very highly of the quality of care they received.
"I don't know if we could have done as well anywhere else," says Gayle. "There is no one that was going to come close to El Camino's reputation."