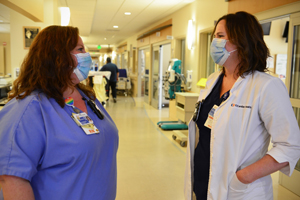 By the time El Camino Health's critical care unit (CCU) in Mountain View received its first patient with COVID-19, preparations had already been well underway to ensure patients would be cared for appropriately and staff kept safe. There were two team members leading the effort to educate and train staff on this acute care unit where patients who have life-threatening or very complex medical conditions receive comprehensive care and constant supervision and monitoring by specially trained clinicians – CCU Manager Karen and CCU Educator Kris. Both take a proactive approach to things, have similar personalities and complement each other well. Throughout the pandemic, the two have been relentless in staying on top of ever-changing COVID-19 protocols and instructing the CCU team on the use of personal protection equipment (PPE), while also being a constant source of calm and support for the team.
"Early on, there was an added layer of stress on the unit because information was changing rapidly," explains Karen. "There was more PPE to learn to wear properly, an intensive cleaning protocol and decontamination process and we all knew that just one misstep could put the rest of the team in jeopardy."
At the start of the pandemic, Karen spent many hours on the CCU unit to ensure staff was supported, concerns were addressed, and questions were answered. Karen was, and still is, physically present on the unit at all hours of the day and night. When she is not at the hospital, she is available by phone 24/7. Karen supports her staff above and beyond what anyone would expect, all the time balancing her own family obligations. Her main concern is keeping everyone safe.
The entire nursing team in the CCU became the protectors of staff from other departments entering the unit, making sure they knew how to use PPE properly so no one was at risk of exposure. They came up with ways to prevent overusing PPE such as putting the IV pumps outside rooms so they could manage the alarms without going in and out repeatedly. Most of all, they showed compassion to the patients in their care. The nurses helped patients communicate with their families members using mobile devices, administered care and medication, and held their hands so they were not alone.
"This team is courageous and resilient and their dedication to caring for patients is nothing less than heroic," adds Karen. "I am proud to lead these frontline heroes."
Educating and training the team to treat patients with COVID-19 safely was critical to enable the nurses to provide the best care possible. In her role as educator, Kris assists nursing staff in developing and maintaining their competencies, advancing their professional nursing practice and facilitating their achievement of academic and career goals. Working alongside Karen, she was responsible for training staff on how to care for patients with COVID-19, teaching them how to safely put on and take of PPE, while also guiding employees who were concerned and worried about their own health and safety.
"I am proud to say that every single nurse stayed safe and after caring for these patients for two months," shares Kris. "The nurses have protected each other and kept everyone who came onto the unit safe."
Kris developed new curriculum to train the nurses so they were aware of the most up-to-date COVID-19 protocols and hospital policies. The hospital's no visitor policy included the speakers Kris had arranged to do the training. She quickly shifted gears and immediately began developing the presentations and simulations so she could effectively train staff. Kris worked very long hours and came into the hospital early to train the rapid response nurses and returned home late in the evening.
"Kris' love and passion for patient care comes through loudly when watching her teach and train staff," according to a team member. "She has a wealth of knowledge and many years' experience of being a CCU nurse that she shares freely."
The collaborative approach that Karen, Kris and the entire El Camino Health nursing team have taken to make sure that the patients in CCU are given the best quality of care deserves recognition and respect. In honor of National Nurses Week, we pay a special tribute to the dedicated nurses at El Camino Health and the incredible work they do day in and day out to provide kind, respectful and exceptional care to the patients we serve every day.