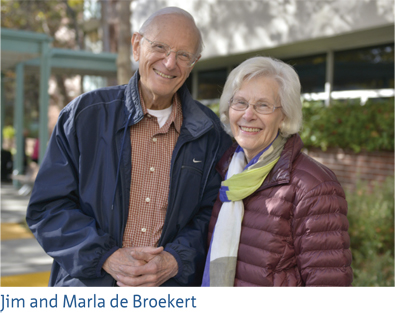 Cupertino residents Marla and Jim de Broekert have made the first gift toward the Scrivner Challenge. "Depression has been rampant in my mother's family," says Marla. "Our grandchildren knew the first teen who committed suicide in Palo Alto in 2009. These suicides are too close to home to ignore."
The de Broekerts learned about philanthropy early. Growing up on a farm, Marla did not have a lot as a child, but her father regularly put money into the collection plate at church. "He always said, 'I never miss what I give away,'" a lifelong lesson she carries with her. Jim's father was an accountant who taught Jim to "spend less than you take in and put the difference into a savings account. Then you'll build up a reserve and with that reserve you can do many things, including helping others."
The de Broekerts have translated these family values into action as longtime supporters of El Camino Hospital and donors to El Camino Hospital Foundation. Marla has volunteered more than 3,000 hours since joining the Auxiliary in 2001. She also served three terms on the Foundation Board of Directors.
"Making this gift has made both Jim and me believe that perhaps in this way we can contribute to making lives longer, happier and more productive," says Marla. "There is so much intellect and promise in this community. We must protect it with the resources and talents available. We are grateful that the Scrivners and the Foundation are playing such a huge role in turning ideas and financial means into better lives."
Marla encourages everyone to rise to the Scrivner Challenge. "Depression and suicide don't have to be close to home for anyone to help. It doesn't take a lot of money to contribute."