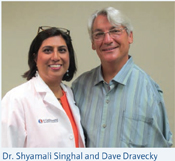 Former San Francisco Giants pitcher Dave Dravecky, a cancer survivor, headlined El Camino Hospital's Survivors' Day festivities on May 14, 2016 with a talk about his life before and after the disease that ended his professional baseball career. In 1988, Dravecky was diagnosed with cancer in his pitching arm and had surgery that removed half of the deltoid muscle. Surprising everyone, he returned to the mound the following year, but his arm broke during a game as he was throwing a pitch. Ultimately, his left arm and shoulder were amputated. Now a cancer survivor of 25 years, Dravecky told the audience, "Little did I know that the loss of my childhood dream would become a platform to share hope with the suffering around the world." He continued, "I learned, it's not what you do that matters most – it's who you are."
Dravecky graciously answered questions and posed for photos with many of the 150 cancer survivors and family members who attended the event, many of them dressed in Giants attire. Doctors and other Cancer Center clinicians participated in an "Ask the Doctors" panel and oncology nutritionist Charis Spielman gave a talk on cancer healthy eating. The ice cream social that followed made the celebratory event even sweeter.
El Camino Hospital's survivorship program was launched in 2014 with proceeds from Sapphire Soirée. The annual Survivors' Day program is made possible with funding by El Camino Hospital Foundation and community donations.