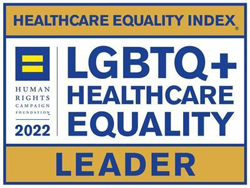 Mountain View, CA — April 1, 2022 — The Human Rights Campaign Foundation (HRC), has named El Camino Health an "LGBTQ+ Healthcare Equality Leader" in their 15th anniversary edition of the Healthcare Equality Index (HEI), the nation's foremost benchmarking survey of healthcare facilities on policies and practices dedicated to the equitable treatment and inclusion of their LGBTQ+ patients, visitors, and employees.
"It is our priority at El Camino Health to provide high quality care in an environment where everyone feels safe and belongs," said Dan Woods, CEO of El Camino Health. "The LGBTQ+ community is a tremendous part of the Bay Area's culture and an integral part of El Camino Health."
This year, a record 906 healthcare facilities participated in the 2022 HEI survey. The HEI evaluates and scores healthcare facilities on detailed criteria falling under four central pillars:
Foundational Policies and Training in LGBTQ+ Patient-Centered Care;
LGBTQ+ Patient Services and Support;
Employee Benefits and Policies; and,
Patient and Community Engagement.
In the 2022 report, 496 organizations earned HRC's "LGBTQ+ Healthcare Equality Leader" designation, including El Camino Health. This designation signifies that the healthcare organization received the maximum score in each section and earned an overall score of 100. Another 251 facilities earned the "Top Performer" designation with scores between 80-95 points. Out of the 906 healthcare facilities that participated, 82% earned a score of 80 points or higher. El Camino Health has earned HRC's highest designation every year since 2016.
"We're proud to work for an organization that values, respects, and empowers LGBTQ+ voices," said Margot Flaugher, co-chair of the LGBTQ+ affinity group. "Long before diversity, equity, and inclusion became part of the national conversation, our committee has worked hard to ensure all patients, visitors, and employees feel seen, heard, and accepted for who they are and we look forward to serving the LGBTQ+ community for years to come." El Camino Health's LGBTQ+ affinity group was formed in 2015 to help advance care that addresses the needs of the LGBTQ+ community and create unity among LGBTQ+ employees and their allies.
"As members of the LGBTQ+ community, we know firsthand that people in our community are subject to discrimination in all spaces," said Scotia MacGillivray, co-chair of El Camino Health's LGBTQ+ Affinity Group. "It is more important than ever for us to create safe spaces where members of our community feel respected and comfortable seeking care."
The remarkable progress reflected in the 2022 HEI includes:
93% of participants met the HEI's training requirements, completing more than 200,000 hours of staff training in LGBTQ+ patient-centered care.
82% of participating facilities earned either the Leader or Top Performer.
99% of HEI participants documented that they include both "sexual orientation" and "gender identity" in their patient non-discrimination policy.
99% of HEI participants documented that they include both "sexual orientation" and "gender identity" in their employment nondiscrimination policy.
81% of HEI participants offer transgender-inclusive healthcare benefits to their employees, up from 75% in 2019, which was the first year this it was required in order to obtain Leader status.
About El Camino Health
El Camino Health provides a personalized healthcare experience at two not-for-profit acute care hospitals in Los Gatos and Mountain View and at primary care, multi-specialty care, and urgent care locations across Santa Clara County. For more than 60 years, the organization has grown to meet the needs of individuals and communities it serves. Bringing together the best in new technology and advanced medicine, the network of nationally recognized physicians and care teams deliver high quality, compassionate care. Key service lines include cancer, heart and vascular, mother-baby, orthopedics, spine, and women's health. The hospitals have earned numerous awards for clinical excellence, including being named as a top 100 hospital in the nation by Fortune/IBM Watson Health and Newsweek, Best Maternity Care Hospital for Los Gatos hospital by Newsweek, and earning a 5-Star Overall Hospital Quality Rating from Centers for Medicare & Medicaid Services (CMS). El Camino Health has earned four consecutive American Nurses Credentialing Center Magnet Recognitions for nursing excellence and quality patient care.
###