October 20, 2015 – El Camino Hospital announces it has achieved "Exemplar" status for its NICHE (Nurses Improving Care for Healthsystem Elders) Program. NICHE is the premier designation indicating a hospital's commitment to excellence in the care of patients 65 years and older. The "Exemplar" status recognizes El Camino Hospital's ongoing dedication to geriatric care and pre-eminence in the implementation and quality of system-wide interventions and initiatives that demonstrate organizational commitment to the care of older adults.
The "Exemplar" status — the highest of four possible program levels — was assigned following a rigorous annual program evaluation of the NICHE Program at El Camino Hospital. The evaluation benchmarks program progress year-to-year, targets future care initiatives, and provides data to use in gaining and sustaining support from institution stakeholders. Requirements include implementation of the NICHE Geriatric Resource Nurse (GRN) model and evidence-based protocols on all applicable units; implementation of systemic aging-sensitive policies; inclusion of the input of patient, families, and community-based providers in planning and implementation of NICHE initiatives; and assuming regional and national leadership roles.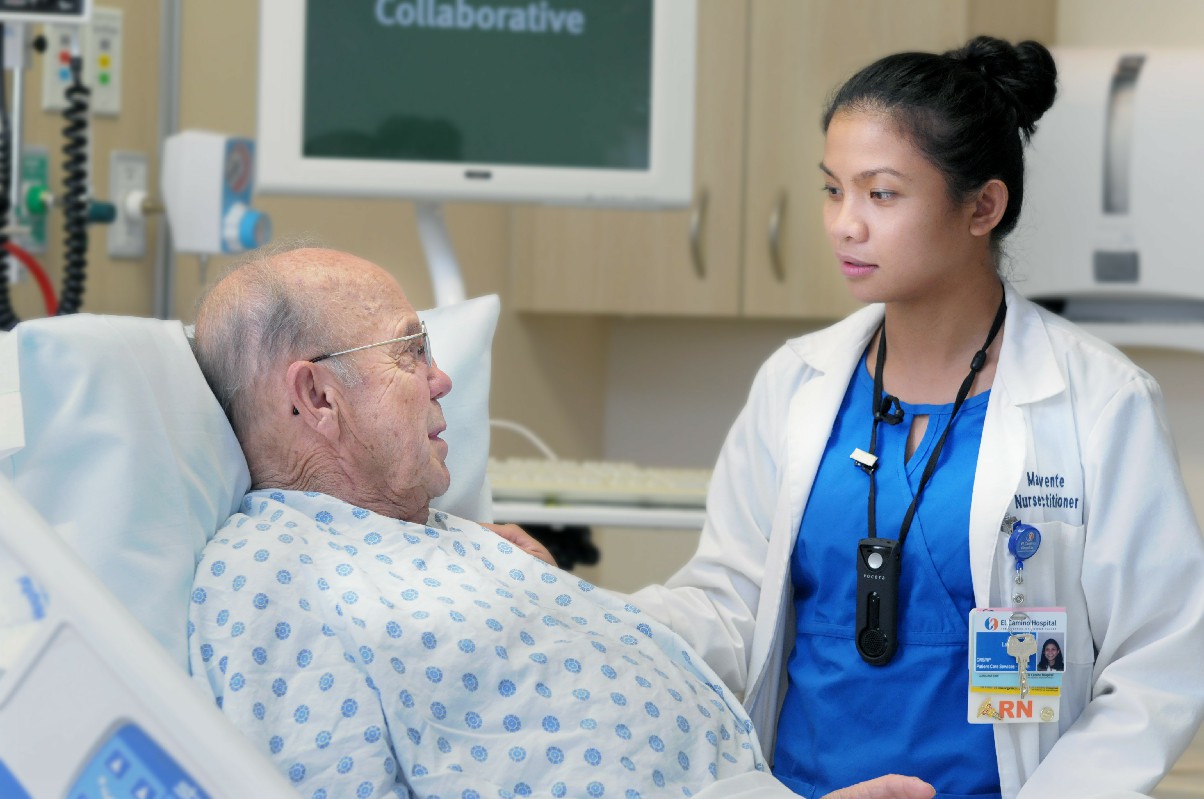 "El Camino Hospital's evaluation demonstrated a tremendous ability to meet the needs of the older adult patient," says Barbara Bricoli, Executive Director of NICHE. "The hospital's high intensity level in marshaling geriatric nursing resources and support to enhance care marks it as a leader in the field."
One unique way El Camino Hospital addressed the program requirements was by collaborating with the Auxiliary to improve patient care experience of older adults. The NICHE Committee and Auxiliary identified several components that they could impact, such as sensory improvement, sleep enhancement, fall prevention, and pressure ulcer prevention. Members of the Auxiliary hand-crochet sensory blankets and sew activity aprons for patients, sew ear pillows to help prevent pressure ulcers, and previously distributed sleep kits with lavender lotion/oil and eye masks.
"The NICHE designation and the "Exemplar" status signal our resolve to provide patient-centered care for older adults," says Cheryl Reinking, RN, MS, Chief Nursing Officer of El Camino Hospital. "Through our participation in the NICHE program we are able to offer evidence-based, interdisciplinary approaches that promote better outcomes, positive experiences, and improved care for the older adults in our care. This leads to greater satisfaction rates for our patients, their families and our staff."
About NICHE
NICHE (Nurses Improving Care for Healthsystem Elders) is an international program designed to help improve the care of older adults. The vision of NICHE is for all patients 65-and-over to be given sensitive and exemplary care. The mission of NICHE is to provide principles and tools to stimulate a change in the culture of healthcare facilities to achieve patient-centered care for older adults. NICHE, based at NYU College of Nursing, has over 620 hospitals and healthcare organizations from the U.S., Canada, Bermuda and Singapore in the network. For more information visit www.nicheprogram.org.
About El Camino Hospital
El Camino Hospital is an acute-care, 443-bed, nonprofit and locally governed organization with campuses in Mountain View and Los Gatos, Calif. Key medical specialties include cancer, heart and vascular, men's health, mental health, neuroscience, orthopedic and spine, senior health, urology, and the first Women's Hospital in Northern California. The hospital is recognized as a national leader in the use of health information technology and wireless communications, and has been awarded the Gold Seal of Approval from The Joint Commission as a Primary Stroke Center as well as three consecutive ANCC Magnet Recognitions for Nursing Care.