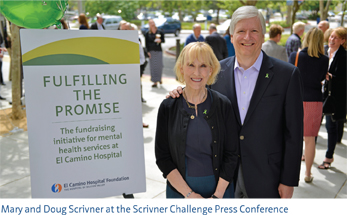 Los Altos Hills residents Mary and Doug Scrivner have made a $1 million gift to start an endowment for ASPIRE, El Camino Hospital's adolescent mental health program. They are challenging the community to help fully fund it. "With this gift we will match donations at all levels that are designated for this purpose, which means every gift will go twice as far," says Doug.
"Although we do not have children of our own, we recognize that mental wellness and suicide issues for adolescents in our community are clear and alarming," explains Mary, who serves on El Camino Hospital Foundation's Board of Directors and Philanthropy Council for Mental Health, and is helping to steer the Fulfilling the Promise fundraising initiative. "We believe deeply that those of us who have had much success should share our good fortune in a manner that supports the community. We chose ASPIRE because we believe it will have the most impact."
According to the National Institute of Mental Health, by age 18, approximately 11% of youth develop a depressive disorder. This heightens the likelihood they will drop out of school and makes them more vulnerable to substance abuse, violence and suicide, which is the third leading cause of death in 15 to 24- year olds and the fourth leading cause of death for children ages 10-14. In addition, there is a severe shortage of mental health resources for children.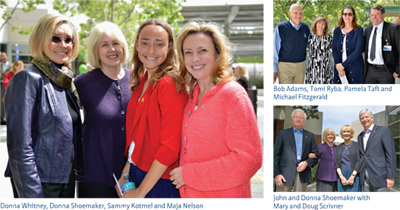 ASPIRE, which stands for After-School Program Interventions and Resiliency Education, started in 2010 after a cluster of teen suicides shocked the local community. The intensive outpatient therapy program is designed for young people ages 13-17 with significant anxiety or depression and at risk of harming themselves. Over the course of eight weeks they learn the skills needed to help them succeed in high school and in life: emotional regulation, distress tolerance, interpersonal effectiveness, and mindfulness. Although ASPIRE primarily serves high schools in Mountain View and Los Gatos, in some cases for academic credit, many teens are referred from Palo Alto schools and some come from as far away as Burlingame and Santa Cruz.
"We see our youth under increasing stress," says Mary. "It is harder for them to launch – to get into college, to meet high expectations, to become independent. It is critical to support the fabric of our community through the education of our children."
"You can't necessarily change the stresses in the environment, including the ever-present pressure of social media, but you can help kids deal with them better," continues Doug, who views education as the primary way to create opportunity for young people. "We need the ASPIRE graduates to learn and grow, come out stronger from facing the challenge, and be the leaders of the future."
"The endowment the Scrivners are starting will ensure ASPIRE can continue to meet the mental health needs of our community's children, now and in the future," says El Camino Hospital Foundation President Jodi Barnard. "It will provide annual funding so the hospital can create additional outpatient treatment tracks to better meet the spiraling demand for care and relieve the pressure of growing waiting lists. It will allow the hospital to extend the program to create an appropriate curriculum for middle school and college students in order to broaden its impact, and even share its results with other organizations. It will also help the hospital meet emerging needs that we cannot anticipate today."
Concludes Mary, "If all of us fulfill our promise at El Camino Hospital and as a community, the adolescents can fulfill their promise in the sense of all they have to offer to themselves, our community and the world."