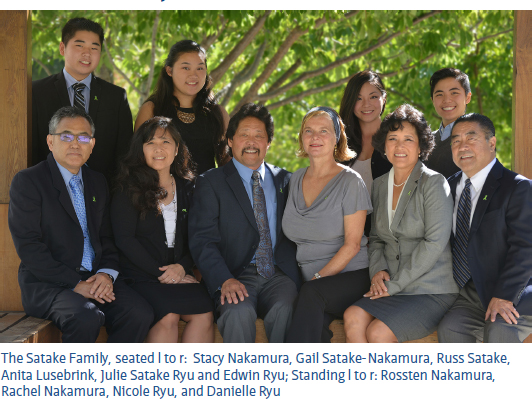 Skip
Skip
Four generations of the Satake family in Mountain View, California have been guided by a few enduring principles: Whatever happens, make the best of it. Treat others with respect. Be involved with your community. Donate where you live. Guided by those life lessons, siblings Russ Satake, Julie Satake Ryu, and Gail Satake-Nakamura, and their spouses Anita Lusebrink, Edwin Ryu, and Stacy Nakamura, have made a $1 million gift in memory of their parents to name the James and Akiko Satake courtyard in El Camino Hospital's new mental health inpatient facility, scheduled to open in 2018.
"The decision by the El Camino Hospital Board of Directors to fund a new mental health building in today's world is unique and worthy of community support," says Russ, who currently serves as chair of the El Camino Hospital Foundation Board of Directors and on the Philanthropy Council for Mental Health. "It is about helping the community, not the bottom line, and it is to be lauded."
The Satake family has deep roots in Mountain View. Russ, Julie and Gail's father James was born here in 1924. Their grandparents, Shinajiro and Shimano Satake, purchased 36 acres of land here in December 1941, with the intention of continuing the farming business they had started on leased property in midtown Palo Alto. Those plans were interrupted by World War II, when the family, like all people of Japanese ancestry in California, Washington, and Oregon, was required to relocate to an inland area. Shinajiro and Shimano voluntarily left California in 1942 with their two sons and two daughters, eventually settling in Delta, Utah, a farming community south of Salt Lake City. Shortly thereafter, James and his brother Naoharu were drafted into the U.S. Army, serving honorably in Germany and Japan respectively.
A Growing Business
The Satakes returned to the Mountain View property in 1945 and began to build what would become a thriving nursery business. Shinajiro and Shimano, son James, daughter Chiyoko, and their spouses grew vegetables and built two greenhouses that enabled them to both germinate seedlings for early spring planting and experiment with growing bedding plants for the fall season. They also built their homes on the property. Today, Julie and Edwin live in the house that was originally constructed for her grandparents. The family sold some of the acreage to a residential developer in the early 1950s but continued to expand production for the nursery on the remaining parcel until that too was sold in 2008. After graduating from UC Berkeley in 1978, Russ joined the family business and oversaw its growth into the new millennium.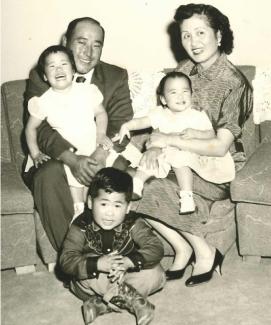 A Tradition of Giving
"Our dad was a leader and always involved with his community," remembers Julie. "He was a man with vision and the ability to follow through to make things happen," concurs Edwin, noting James' role in establishing the Mountain View Buddhist Temple and maintaining and improving the facility for years, among many other community activities. The siblings have followed his example, the Ryus by continuing his work at the Buddhist Temple and through the philanthropies they support, Gail as a volunteer at her children's schools and at church, and Russ through his service to El Camino Hospital Foundation and other organizations.
On photo: James and Akiko Satake with children Julie, Gail and Russ
Their plans were interrupted by World War II, when the family like all people of Japanese ancestry in California, Washington, and Oregon, was required to relocate to an inland area.

A Healing Outdoor Space
"We hope the courtyard will create a healing space for patients and staff that reflects the agricultural and horticultural background of our family and the history of the region," explains Russ. "By naming it for our parents we are honoring their legacy and that of our grandparents, and transmitting those values to the next generation. This gift is our way of giving back to the community we have lived in for so long."
"We always try to give to causes of which we have some direct knowledge," adds Julie. That includes the decision to support mental health services at El Camino Hospital, where Akiko Satake had been treated for severe depression. The family remains acutely aware of both the stigma associated with mental illness, particularly in the Asian community, and the need for more and better treatment options.
"Mental illness is a hidden secret," says Gail, who received a master's degree in counseling at a time when no one would talk about it. "There aren't enough services," she continues. "If people had a better understanding of mental health and its issues, and if those that needed assistance could receive the help they need, our entire community would be stronger."
Building Community
"We hope that our gift will inspire others to contribute," concludes Russ. "We wouldn't be in a position to do this if it were not for our parents' and grandparents' hard work," noting that a significant part of the gift comes from their father's donor advised fund. "It is fitting to express our respect and gratitude for them by contributing in a way that will continue to build the community they actively nurtured."
"It is important to donate where you live," emphasizes Julie. "You live right here every day."