Like many other clinical departments at El Camino Health, Imaging Services works 24 hours a day, seven days a week, and is focused on providing high-quality, personalized services to patients quickly and efficiently.
Performing their work often takes them to the front lines, and entails providing tests in various departments and settings throughout the hospital system. Imaging Services provides the following tests at El Camino Health: Computed Tomography (CT); Magnetic Resonance Imaging (MRI); Nuclear Medicine; Positron Emission Tomography (PET); Ultrasound, X-ray or Radiography; Dual-energy X-ray Absorptiometry (DXA); 3D Breast Tomography (Mammo) and Whole Breast Ultrasound.
"We are in our hospitals' emergency rooms, in patient care isolation rooms, and at the forefront of care," said Senior System Director, Imaging Services Joshua Schreckengost. "At times, we have to be portable and move our imaging equipment to the patient to get the tests doctors have ordered. Our goal is to provide a safe environment for our employees and patients, to keep everyone in the trenches safe."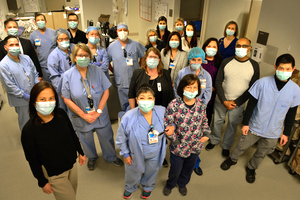 Keeping everyone safe became more of a challenge when the COVID-19 virus first appeared in Santa Clara County and El Camino Health in early 2020, as recommendations from federal, state, and local agencies about how to protect employees and patients was being updated on a consistent basis.
"It's only natural for staff and patients to feel anxiety when a new virus like COVID-19 first appears," said Enterprise Operations Manager, Imaging Services Laurie Holderman. "We worked to improve communications throughout the department, in both Mountain View and Los Gatos, to let everyone know we had the proper equipment available and precautions in place. Our Infection Control Department did a great job keeping us informed."
COVID-19 was an emergency that helped unify the team, noted Joshua. "While there was anxiety about the novel virus, the staff really honed in on their basic techniques and skills, and stayed focused," he said. "With the drop in elective procedures, we had to be flexible with our staffing, but everyone really pulled together and showed a high level of professionalism."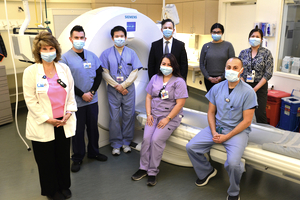 To help improve communication daily "huddles" were held via Zoom, so that staff could receive timely updates and learn more about precautions that were put in place to protect employees and patients. Additionally, employees received consistent updates from El Camino Health's senior leadership team and the Command Center, which helped ease anxieties even more.
When workloads increased, new staff were brought in and trained on current safety protocols. Additionally, as the number of operating room procedures in the Los Gatos increased, employees from the Mountain View campus shifted along with the work, providing support where necessary.
"Our teamwork and cross-campus connection improved," noted Joshua. "We saw better communications between sites, and more collaboration. The outstanding performance of our united team is a testament to their resiliency and has been very impressive."