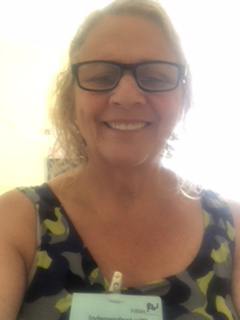 Diagnosed with Syringomyelia about 20 years ago and more than three surgeries later, Jeriann is beating the odds with determination and an incredible zest for life. She was born in New York City to a large family and has been married for 42 years. Jeriann loves horses and was a barrel racer in her teens. She felt most free on the back of a horse, but can no longer ride due to her condition.
Syringomyelia is the development of a fluid-filled cyst within the spinal cord. Over time, the cyst can enlarge and damage the spinal cord causing pain, weakness, numbness and stiffness, among other symptoms. Last year, Jeriann underwent a six-hour surgery to remove old scar tissue and have a new shunt placed in her back. After surgery, Jeriann's goal was to regain her mobility and remain free of pain medications. It is unusual for someone to have this condition for so long and still be able to walk and not be on strong pain medications. Her doctor told her rehabilitation was necessary but she was reluctant because of her negative perceptions about rehabilitation centers. Those impressions all changed when she met with someone from the inpatient Rehabilitation Center at El Camino Hospital Los Gatos.
"It was like having a friend come to visit me and explain what my options were," says Jeriann. "She told me all about the center including their beautiful gardens and private rooms. I felt so at home and comfortable with her and she respected me and my wishes. I knew this was truly going to be a partnership."
"When I walked into the main rehabilitation space, everything was spotless and the people doing rehab were being helped by what looked like personal trainers. I saw the gardens through the window. I am really big on smells and everything smelled wonderful! My first impressions were all positive," exclaims Jeriann.
After undergoing a series of evaluations, the rehab team decided what would work best for Jeriann and created a personalized program for her. "I had physical and occupational therapy and I started to get back some skills I didn't have before my surgery. I got some motion in my foot back and was able to move my hand again. I never thought I could be this physically capable again," shared Jeriann. "When I arrived, I was in raging pain and could barely walk. My left side was numb and I could only move the thumb on my left hand. Today, I have most of the movement in my hand back and I can walk on my own without the use of a walker!"
"Everyone worked as a team. I felt like I was the only patient they had and it was all about me. They made me feel like I could reach my full potential. The whole time I kept thinking they must think I am some sort of celebrity or my doctor told them to treat me this way. But that wasn't the case. This is the way they treat everyone!" she adds.
Jeriann was very pleased with her experience. "My best advice is to go to El Camino Hospital for rehabilitation – just do it. It was the best decision I made in a long time. The care you get there will be the best. You will be treated like a treasured guest and have doctors and nurses who are there to help you. Listen to what they say and do what they tell you to do to the best of your ability. Make it your job. Take care of your inner child. Ask questions and know they will answer every single one. Your mind is healing as well as your body. You will experience a peace there and it will stay with you a very long time. It is a gift you are giving yourself."